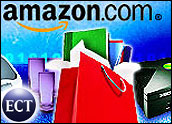 Saying that their livelihoods might be at stake, Canadian booksellers are taking their battle against the arrival of Amazon.com to court.
The Canadian Booksellers Association (CBA) has joined with Amazon's largest Canadian competitor, Indigo Books, to apply for judicial review of an administrative ruling by the Department of Canadian Heritage.
Last month, the minister of the Department of Canadian Heritage ruled that Amazon was not subject to the Investment Canada Act, which restricts non-Canadian investment in certain cultural activities, including bookselling. The ruling found that Amazon was neither establishing a new Canada-based business nor buying an existing one.
Opposing Views
However, the CBA said Amazon's move into Canada should trigger a review because it involves establishing Canadian supply chains and because it relies on Canada Post, the nation's federal postal service, for delivery.
"It is incredible that our Government could take the position that a business of the scale and scope of Amazon.ca in Canada … would not be subject to the Investment Canada Act," CBA president Todd Anderson said.
Anderson added that his group's members, including hundreds of small bookstores, "are being denied the intent that the Act and Book Policy were intended to provide."
The group said that earlier instances of the Act's invocation set a precedent that should be followed with Amazon.
Past Practice
Among those earlier cases was a 1995 advisory opinion in which potential investors seeking to bring Borders stores to Canada were advised that their venture probably would not be approved, even though the resulting company would have been majority-owned and operated by Canadians.
The CBA also cited a case earlier this year in which an American retailer was refused the right to open a single bookstore in Halifax, Nova Scotia. And Anderson said that Amazon itself was denied the right to open a call center in the maritime province of New Brunswick.
"It is hard to believe that those three cases would be prevented by the Investment Canada Act and the Book Policy, but Amazon.ca's venture, which is exponentially larger and has no element of Canadian ownership, would be permitted," Anderson said.
Anderson emphasized that the group only wants the appropriate reviews to be conducted by the Heritage department.
Good for Canada
When Heritage Canada ruled last month that Amazon was not subject to the act, the company said it agreed with the ruling because it had maintained all along that it was not interested in creating a new Canadian company.
"We've been aware from day one of the restrictions placed on bookselling and respected them as we set up," Amazon spokesperson Patty Smith told the E-Commerce Times. "We believe our venture is a positive for Canadian consumers and the publishing industry in Canada."
Go North
Amazon finally entered Canada in June, making the country the fifth international marketplace where it operates — and the closest, just a few hundred miles away from its headquarters in Seattle, Washington.
Canadian e-commerce has been strengthening in recent months after lagging considerably behind the United States for several years.
A recent study from IDC noted that despite leading the United States in Internet adoption, Canada has been an e-commerce laggard. That disparity changed in 2001, when e-commerce grew nearly 70 percent to US$26.4 billion.