Amazon on Wednesday unveiled the new Kindle DX, a larger version of its Kindle e-reader, during a press conference at Pace University.
Amazon heads were accompanied at the event by executives from the device's two major target markets — the newspaper and publishing industries.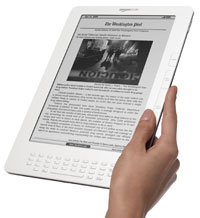 [Click Image to Enlarge]
Newspapers and at least one university will be testing the distribution of content through the Kindle DX this fall.
Priced at US$489, the Kindle DX will be released this summer; Amazon is taking preorders now.
Basic Details
The Kindle DX's screen measures 9.7 inches diagonally, compared with the 6-inch screen of its immediate predecessor, the Kindle 2.
In addition to being physically larger, the Kindle DX can store about 3,500 books, compared with the Kindle 2's 1,500.
The Kindle DX also has a native PDF reader, whereas the Kindle 2 offers PDF support through a file conversion process.
At $489, the DX costs $130 more than the Kindle 2, which is offered at $359.
The DX's other capabilities are very similar to those of the Kindle 2, according to Amazon.
The Technical Stuff
The Kindle DX weighs almost 19 ounces and has 4 GB of storage, about 3.3 GB of which are available to store book content.
Its battery lasts up to four days with the wireless capability turned on, Amazon claims. It recharges fully in about four hours, and can be charged through a computer's USB 2.0 port.
The Kindle DX supports the PDF, TXT, Kindle, Audible, MP3, and unprotected mobi formats natively. It also supports the HTML, DOC, RTF, JPEG, GIF, PNG and BMP formats through file conversion.
Mobi, or "dotMobi," is a domain for mobile device use that is sponsored by several vendors including Microsoft, Nokia and Vodafone.
The Kindle DX comes with a power adapter, a USB 2.0 cable and a battery. A Quick Start guide is included in the box, and the Kindle DX User's Guide comes preinstalled as a PDF file. The device comes with a one-year limited warranty and service. A two-year extended warranty is sold separately for $109.
Textbooks or Newspapers?
As they flail about seeking ways to stay afloat, newspaper publishers are looking to e-readers like the Kindle as a possible key to sustained buoyancy. However, the Kindle DX will likely be marketed first to schools and universities, according to Gartner analyst Andrew Frank.
"The textbook announcements came first at the press conference and seemed less speculative in terms of having to imagine how people would interact with this technology in the future," he told TechNewsWorld.
"Even though the potential value of e-readers to newspaper publishers is compelling, it's still an unproven story, and there are lots of usability questions that pop up," he said.
For the Student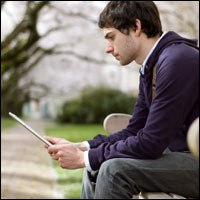 Amazon has reached agreements with three textbook publishers — Pearson, Cengage Learning and Wiley — said Amazon Chairman Jeff Bezos. Together, they represent 60 percent of the market.
Students at five universities will try out the device this fall, Bezos said. These institutions are Case Western Reserve University; Arizona State University; Princeton University; the University of Virginia; and Pace University.
The Kindle DX might just catch on in schools and universities, Yankee Group analyst Josh Martin said. "If they can convince schools this is a good investment over five to 10 years, it may make a difference," he told TechNewsWorld. "Textbooks are a static technology that needs to change."
Scholarly Caveats
However, economic factors may hinder the adoption of the Kindle DX among students. The pricing of the content will make a difference.
"If you're talking about a $200 textbook being available on the Kindle at $180, the value proposition isn't there," Martin said. "Also, right now, students can resell their old textbooks. Can they do that with downloaded textbooks in PDF format?"
Martin also thinks that at nearly $500, the Kindle DX is too expensive. "With budgets being what they are, this is an interesting time to release the device," he said.
Other Possible Problems in School
If the Kindle DX is used in education, licensing and other issues may also crop up.
"Does the school license the right to a book? If so, for how long?" Martin asked. "What happens if a student transfers to another school? There are a lot of cogs that need to be aligned."
Other issues include screen resolution quality, the problem of a Kindle's battery dying while its owner is in class, and whether or not color is important.
Kindles are gray-scale devices, but many textbooks have color charts, graphics and photographs.
The Newspaper Industry
Three newspapers will offer the Kindle DX at a reduced price in exchange for long-term subscriptions — The New York Times, the Boston Globe and the Washington Post.
All three are facing financial problems, and there was speculation last month that The New York Times, which owns the Boston Globe, could declare the Boston paper bankrupt. The Times itself reportedly has to come up with $400 million for payments to lenders this month.
However, trials with the Kindle DX would have to be carefully managed. "The New York Times said these trials would be offered to readers outside the zones where delivery was available, so clearly there are issues with cannibalization of sales," Gartner's Frank said.
"That could delay adoption of the technology by newspaper publishers," he added.