CAELinux is a perfect example of the power of open source to tailor the Linux operating system to users' specialized needs.This computer-assisted engineering (CAE) distro clearly is not for the vast majority of Linux users, but it certainly has all the features you would expect in any mature Linux OS — and then some.
The extra ingredients make CAELinux a unique Linux distro for engineers and engineering students, as well as scientists. It offers an unusual mix of Xubuntu 12.04 LTS 64-bit with a customized Xfce desktop environment. An enhanced run mode gives good performance directly from the DVD or from a USB drive without any hard drive installation.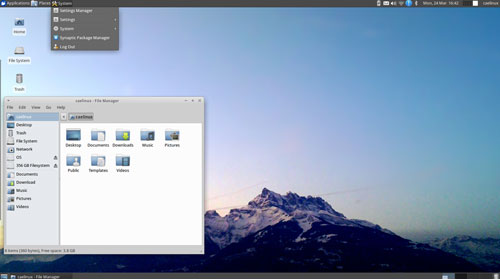 CAELinux offers an unusual mix of Xubuntu 12.04 LTS 64-bit with a customized Xfce desktop environment. (click to enlarge)
Its installed software base features a unique suite of open source simulation tools for finite element analysis (FEA) and computational fluid dynamics (CFD) or multiphysics simulation. Add to this mix a large selection of other engineering software for CAD-CAM and 3D printing, electronics, mathematics and programming.
This latest version, dubbed "CAELinux 2013," was released March 9, 2014, a bit later than initially planned. The last stable release was in 2011. The distro first appeared in 2007.
The latest version is a complete rebuild of the distribution with up-to-date software for better support of modern hardware and significantly enhanced ease of use. Much of the credit for the usability improvement goes to the no-nonsense Xfce 4.8 desktop and Xubuntu underpinnings.
Lovely Landscape
The classy Xfce desktop requires very little learning for those not already familiar with its interface. The customized Xfce desktop environment reflects the Gnome 2 desktop behavior. So users can immediately concentrate on using the scientific software instead of learning to use a complicated interface.
Right-click anywhere on the desktop itself to display the standard Systems Menu. Down the right edge of the screen shows a list of icons for each mounted drive. Also displayed are the trash icon, Home folder, File system folder and the Getting Started tutorial.
A traditional Linux panel bar resides at the top of the screen. The cascading Applications menu is anchored at the far left. Drop-down Places and System menus nestle into that corner as well. On the right side of this panel are the expected notification icons for connections, power, volume control and date/time.
Twin Panel Design
Click on the CAELinux label in the extreme right corner of the upper panel bar to see the options to Lock screen, Suspend/Hibernate, Reboot/Shut down/Log out. Right-click on the panel bar to set panel preferences, add/remove items or move/remove the panel.
A second panel bar falls across the bottom of the screen. The same right-click menu options control that panel. In the far left corner of this bottom panel is a button to minimize all open windows and restore the desktop.
The trash icon sits in the far right corner of this bottom panel. The default installation places a Workplaces Switcher near the right edge on the panel. This switcher shows two virtual workspaces.
Right-click on the switcher to add or remove the number of displayed desktops. As with any panel in the Xfce desktop, right-click on this default panel bar to change its settings.
Superb Software
The primary reason for adopting CAELinux is the specialized scientific and engineering computing tasks of its users. This distro comes packed with Linux versions of leading multiplatform programs that are workhorse tools. Specialized software includes dozens of titles for printing, graphical display, engineering and electronics.
Even the caliber of office and computing accessories packaged into CAELinux is impressive. For instance, the LibreOffice suite is not the only choice available for writing reports and making presentations and spreadsheets.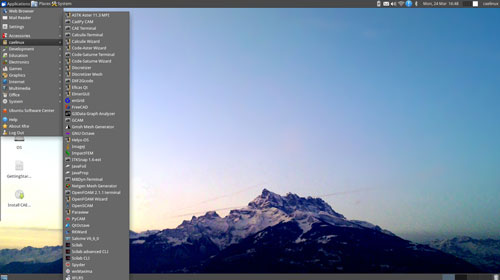 CAELinux has an impressive stockpile of default specialized software for engineering, mathematical, electronic andscientific computing tasks. (click to enlarge)
Numerous other tools are included to save users from getting them on their own. For example, included are the Leafpad and medit text editor. CAELinux also has LyX and TexMaker.
LyX is a document processor that combines the power and flexibility of TeX/LaTeX with the ease of use of a graphical interface. Texmaker is a cross-platform LaTeX editor that integrates many tools needed to develop documents with LaTeX.
These options come in handy for creating mathematical content via a fully integrated equation editor and structured documents like academic articles, theses and books. In addition, staples of scientific authoring, such as reference list and index creation, come standard.
Computer-Assisted Designing
CAELinux is built around a full cycle of a product development. Its focus on software that its specialized users need is obvious. The default packages include tools for 3D printing, CAM/g-code generation, electronic PCB design and micro controller programming.
Scroll through the Application menu to see many more specialized engineering software and a broad selection of Linux system tools and accessories. CAELinux 2013 comes with updated versions of the Salome_Meca 2013.1 and Code-Aster STA11.3. Here is a sampling of what you will not find in other Linux distros:
FEA suite with MPI parallelism solvers
OpenFOAM 2.1.1 integrated with Helyx-OS or Discretizer GUI for settings up CFD simulations
Code-Saturne 3.0 MPI with a simple wizard GUI to get started easily
Calculix 2.6 FEA Multithread version with its own wizard
ElmerFEM 6.2 with high-performance MPI solvers
the latest version of Freecad parametric CAD modeler
a custom PyCAM 0.6 release for 3D milling g-code generation with OpenSCAM for milling simulation
Cura for easy and fast 3D printing g-code generation
GEDA and Kicad electric design suites with many tools for PCB isolation milling
Arduino microcontroller development environment
Like to play games for a mental break? Look no further than the Game category to find AisleRiot Solitaire, Freecell Solitaire, Mahjongg, Mines and Sudoko.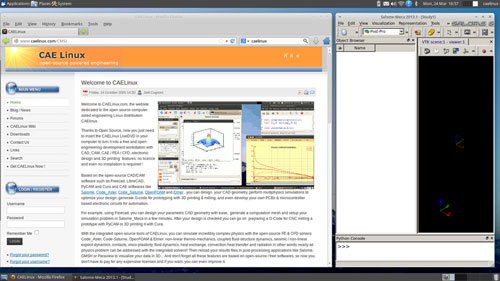 CAELinux runs the Firefox web browser by default (screen left) and specialized CAD-based software. (click to enlarge)
Bottom Line
CAELinux 2013 is one of the most complete open source engineering platforms available. I have not seen any distro that comes close to matching the default software base for engineers and scientists.
Some of the software packages included in this distro are well known cross-platform products. However, I doubt that you will find any other ready-made specialty installation that works out-of-the-box for any other computing platform.
CAELinux 2013 is available only in a 64-bit version and thus needs an X86_64 compatible CPU such as recent Intel and AMD CPUs. This means you can not run this distro on most Intel CoreDuo (not Core2Duo), Atom and Pentium 4 processors. They are not 64-bit compatible. If you lack a qualifying CPU, use instead the earlier CAELinux 2008 release.
Want to Suggest a Linux Application for Review?
Is there a Linux software application you'd like to suggest for review? Something you love or would like to get to know?
Please email your ideas to me, and I'll consider them for a future Linux Picks and Pans column.