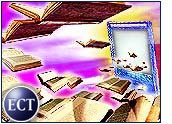 BarnesandNoble.com (Nasdaq: BNBN) continued to shake up its management ranks Thursday, naming a new chief financial officer just days after it installed a permanent CEO.
The moves come a week after the bookseller announced a smaller fourth-quarter loss. However, the company saw its stock price tumble on word that it may have lost market share in the books category to rival Amazon.com (Nasdaq: AMZN) during the holiday shopping season.
Familiar Faces
BarnesandNoble.com named its former vice president of finance, Kevin Frain, as its new CFO. An employee of the Internet unit since 1999, Frain previously had worked with parent company Barnes & Noble.
The appointment came three days after former chief operating officer Marie J. Toulantis was named to the CEO post, becoming the companys first permanent CEO since 2000.
In announcing Toulantis' appointment, company chairman Leonard Riggio cited Toulantis' financial background. Toulantis is a former Chase Manhattan bank executive and served as CFO of Barnes & Noble.
"Marie has done an outstanding job in helping build BarnesandNoble.com into the leading Internet site of any retailer worldwide," Riggio said.
Toulantis took the reins from Stephen Riggio, who ran the company as interim CEO for more than a year. She previously oversaw the initial public offering of Barnesandnoble.com in 1999, which at the time ranked as the most successful IPO in Internet history.
Answers and Questions
BarnesandNoble.com managed to reduce its loss in the fourth quarter, thanks to a combination of higher sales and lower expenses.
The company lost US$31.5 million, or 20 cents per share, in the fourth quarter, compared with a loss of $74.4 million, or 47 cents per share, in the year-ago period.
But revenue grew only slightly to $115 million in the fourth quarter of 2001, compared with $114 million in 2000.
That prompted Prudential Securities analyst Marc Rowen to raise the possibility that Amazon had wrested books and music market share away from Barnesandnoble.com. Amazon reported a 15 percent increase in sales year-over-year.
The two e-tailers have battled on a number of fronts, including a patent infringement lawsuit and a back-and-forth battle over free shipping offers.
After rising more than $2 ahead of the earnings announcement, shares of BarnesandNoble.com stock fell to $1.60 on the report.
Brick-and-Click Example
By being among the first multichannel retailers to closely align its on- and offline sales offerings, Barnes & Noble has been cited as an example for other brick-and-mortar retailers.
More recently, BarnesandNoble.com has sought to diversify and focus on electronic information, opening an online university and its own e-book publishing division.