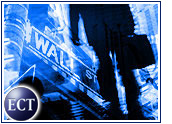 Publicly traded e-commerce firms suffering frommarket-inflicted wounds could enjoy a second wind asprivate companies. Free from stark financial pressures, a few might even reemerge with newfound vigor, according to analysts.
"[Some companies'] reputations in the public markethave been tarnished by the expectations of the broadermarket," US Bancorp Piper Jaffray analyst Jon Ekoniaktold the E-Commerce Times.
"It makes sense for them to go private, to reinventthemselves without public scrutiny."
While a public-to-private move brings its ownchallenges, it may be some technology firms' only hopefor survival.
Daunting Deadlines
Meeting quarterly and annual Wall Street expectationscan preoccupy executives of public companies, often to theexclusion of other company goals, experts said.
"As we saw with Enron, the pressure to meet earningsnumbers can lead companies to make questionabledecisions," Morningstar analyst David Kathman told theE-Commerce Times. "Or [they might take] overlyaggressive actions that are not in the best long-terminterest of the company."
Struggling e-commerce firms that shun the public spotlight by going private can make nimble investment decisions and potentially turn their fortunes around.
Management time previously spent answering tostockholders can be devoted to reengineering criticalcomponents of the company, Ekoniak said.
Blum Bolsters Buy.com
As Buy.com CEO Scott Blum would attest, taking a public company private can dramatically improve its competitive position.
In December, Blum paid US$13 million to buy back control ofthe sputtering e-tailer he founded in 1997.
Buy.com raised $209 million through its initialpublic offering in February 2000, as its share price swelledto $35. But by January 2001, the stock had sunkbelow $1 and Nasdaq delisted it in June 2001.
Now, Blum plans to rescue his company — far from theprying eyes of Wall Street.
"Public opinion, as manifested in the stock price,influences the competitiveness of a company," Ekoniak said. "You can potentially improve your competitiveposition by going private."
Selling Out
Management buyouts are one way for companies to exit the public markets. But businesses also can make such a move on the backs of private acquirers.
After three years on the public market, Outpost.com went private inNovember 2001 by virtue of its sale to Fry'sElectronics. Outpost stock peaked at $45.50 inNovember 1998, but crawled away from the Nasdaq at 24 cents.
"Fry's acquisition of Outpost.com proved to be ourbest opportunity to enhance stockholder value," Outpost founder Darryl Peck said.
Risk of Blacklisting
But going private can place new burdens on companyleaders. Stigma associated with such a move couldcrimp some firms' comeback plans.
"These companies can end up in a fallen-angel categorythat might be difficult to get out of," Ekoniak noted.
However, he added, one way companies can overcome this stumbling block is torename the corporation, signifying a fresh start in a new direction.
Money Matters
What is more, Ekoniak said, newly privatized firms might facehesitancy from prospective customers and partners whorely on the financial transparency of public companiesto inform their business decisions.
"Especially now, with the scrutiny of accountingpractices, people like to see a reliable financialstatement to see if it's a viable company to dobusiness with," Kathman noted.
In addition to business prospects, investors in theprivate market also might balk at cutting checks forformerly public companies, according to Ekoniak. Therefore, raising additional capital to fund a turnaround could provechallenging.
For its part, Buy.com does not rely on steady streamsof capital to support daily operations, whichincreases its chances for success as a privatecompany, Kathman said.
Private Strategy
Mindful of the potential challenges involved, analystsstill suggested that public technology companiesshould seriously consider privatizing as part of asurvival strategy.
Ekoniak noted that even though such a strategy is somewhat unprecedented inthe technology sector, current economic conditionsmay call for drastic measures.
Whether or not a company can succeed after goingprivate depends on its management team's ability to focus on fundamentals and execute a turnaround,he added.