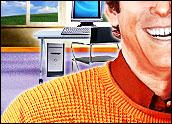 Today's volatile economy is pushing more companies to consider themerits of a virtual workplace for some or all of their employees.Often, however, the idea fails to goanywhere because neither managers nor their workers are sure how toget started.
Also, attitudes among some old-school managers pose hurdles that blockworkers from pursuing virtual workplace opportunities. Thesemanagers hold firmly to the philosophy that working from home results in lowerproductivity from employees and wasted resources for the company. Somemanagers are resolute about having their workers in the same physical building in order tomanage them properly.
However, if a recent industry study on the virtual workspace trend isvalid, companies that fail to embrace the virtual office concept mayfind it harder to keep top talent, even in today's sluggish economy.This report builds on a study commissioned by Citrix Online todetermine the implications of the trend toward virtual workplaces. The marketis clearly primed for a more flexible workplace environment.
A fifth of the respondents in the U.S. would relinquish 5 percentof their salary to be able to work away from the office just one ortwo days a week. However, 56 percent never get the opportunity, according to the Citrix survey.
"The notion that virtual workplaces are beneficial is very challengingto some companies. There are lots of good reasons to have workersremote. [Managers] are coming around. The tools to manage remoteworkers are now available," Bernd Christiansen, vice president and CTOat Citrix, told the E-Commerce Times.
Different Models
Mention virtual working in a mixed crowd and you will get a variety ofresponses as to what it means. For most office-bound workers, theconcept of a virtual workplace is simply working on office tasks fromhome using a computer, fax machine and phone. Office LANs make iteasy for temporarily out-of-the-office workers to stay connected tothe office work flow.
Other people view the virtual workplace concept as a way to sever therequirement to report to a desk and meet face-to-face with supervisors. This part of the virtual work model hasexisted for years as a means for entrepreneurs to set up their ownshops in a home office.
A third version of the virtual workspace involves usingpseudo-corporate office space just to meet with clients or holdcollaborative physical meetings. A cottage industry is growing aroundthe service trade for virtual offices. These companies provideanswering machine and receptionist services, clerical support andother traditional back office services on an as-needed basis forvirtual workers.
"The same technology kids use to stay in touch are being adapted forremote workers. All of these solutions are tech-driven and provide atoe in the water," said Christiansen.
Measuring a Must
The key to effectively managing virtual workers is setting standardsfor management and other staffers. Virtual workplace programs must bemanaged like any other business plan. Companies that do not set up thehome worker environment properly cannot expect workers to succeedwith it.
"The biggest challenge when working with companies wanting totransition to remote workforce is overcoming the notion that theywon't get their money's worth from workers," said Jim Ball, founder andmanaging partner of Alpine Access, one of the largest home-based customer call centeroperations in the country.
His response to such negative concern isthat often these companies are plagued with cultural issues and have little trust intheir workers. Alpine Access even employs mid-level managers who work athome.
"The company has to define how it measures workers' output. We findthat many people work more hours at home than they would if they werein the office. Technology makes it easy for them to log into work andcheck on things," said Ball.
Familiar Format
The call center business has unique advantages over other businesstypes in setting up a virtual workplace model. It is easier to measureworker productivity. Alpine Access developed by trial and error many of the standards itnow uses. It was the first call center to work withhome agents, according to Ball.
Regardless, the technology and management styles used in virtual orat-home work programs is adaptable for most businesses, according toBall. Earlier this year, he launched a consulting group to assistcompanies in making the transition from at-office to at-home.
A set of guidelines recently set up by the Worldwide WorkplaceCouncil to guide virtual wor place programs is designed to sooth those typicalstartup jitters that managers and workers face, said Ball.
Plan in Place
The Worldwide Workplace Council is a group ofadvocates for a location-independent workforce brought together byCitrix Online. Citrix Online provides virtualization, networking andsoftware as a service (SaaS) technologies for more than 230,000organizations worldwide.
Five Simple Steps to a Virtual Workplace Program is a report issued last month that builds on a virtual work study Citrix Online commissioned.
To be successful in any economic climate, companies need a businessmodel that is very cost-effective and takes advantage of virtual workpractices, according to Chuck Wilsker, a member of the WorldwideWorkplace Council and president and CEO of the Telework Coalition.Everything companies need to create a virtual work environment isreadily available. The strategies are simple to use and low cost, hesaid.
"We've been in this business for the last 15 years and have trackedthe changes in the workplace since," Rob Trenck,director of business development for Agilquest, told the E-Commerce Times. "Today, organizations do not have toconsider how to implement a virtual workplace because they alreadyhave one. They just don't realize how extensive it is."
Alternative Working
Over the last few years, technology has caught up with the virtualneeds of out-of-the-office workers, according to Trenck. For example,workers are productive away from their assigned offices whether workingfrom home, at clients' offices, at WiFi-enabled cafes and hotels, etc.
"This mobility is real and is measurable. The organization does notneed to worry about how to get started in the virtual world because agoodly portion of their employees are already in it. Today's hottopic is how to capitalize — i.e., cut costs — on the fact that so manyassigned desks go unused each day. They know the answer to thatquestion is what is called an 'alternative workplace,' where highlymobile people no longer have an assigned desk, but reserve a desk whenneeded from a pool of shareable workspaces," noted Trenck.
So today's question is how does the organization get started insetting up an alternative workplace. That's what's on the minds ofmost every corporate real estate manager. For many, the bottom line is they knowthey should do it; they just don't know how, he concluded. Hiscompany provides software and services to better manage workplaceenvironments.
Five-Step Plan
"A lot of people start out thinking they want to work from home butfail at it. They flounder in thinking they are missing the boat forpromotions, etc., by not being in the office. They also miss the watercooler chat," said Ball. A five-step plan can remove such barriers.
The first step is to determine the specific needs of the organization.These needs impact on hiring, real estate facilities, business travelexpense reductions, and more. It is important to evaluate potentialremote workers' thoughts and opinions before making any changes.
The second step is to fully research best practices for managing avirtual workplace. Include as a starting point resources such as TheFuture of Work, The TeleworkFoundation and Telework Exchange. Another resource isWorkshifting.com, which provides expert information on the topicof remote working and provides help to companies looking into the prospect.
Step three identifies the technologies best suited to enablingemployees to remain productive. The report indicates that mostprofessionals who routinely work remotely rely mostly on email andcellphones, unaware of the many low-cost, simple-to-use technologiesthat offer far greater functionality.
Step four sets policy guidelines for managing the virtual workforce.It is critical to set terms and conditions for both employees andtheir managers.
Step five sets benchmarks and measurements. Include factors such asmetrics for productivity, morale and retention. Also factor in revenueimpacts, travel expense reductions from the use of collaborationtechnologies and lower overhead from having fewer employees in acentral facility.
Virtual Security
For some managers, the trend to virtual workplaces heightens worries about security.Employers are generally concerned with employee-owned devices becausethey aren't controlled by the IT organization and might be improperlyconfigured, Christiansen explained.
Other security concerns center on data leakage from notebooks andunauthorized or insecure access to the Intranet if the corporatefirewall has been opened to support teleworkers. A few years ago,security for such things was only available in large organizations.
"In recent years, innovative technologies have emerged that makesecurity for teleworkers affordable and easy to deploy for businessesof all sizes, including the smallest of businesses," saidChristiansen.
Plugging Leaks
Data leakage can be prevented easily by the administrator switchingoff features like file transfer and remote printing. Another trendthat enables telework is cloud computing, because service providerslike Salesforce.com are securely delivering applications and data to usersinside of a Web browser, Christiansen explained.
"Since virtually all business Web applications are secured by SSL anddon't use any local resources other than the Web browser — e.g., theydon't save files locally and don't make data available in large sets –Web applications are an effective way to support teleworkers," hesaid.