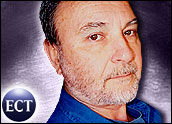 Rumors that Apple is going over to Intel were discounted last month, but the company reportedly plans to announce today that it will start using Chipzilla's microprocessors and phase out IBM's.
Apple plans to use Intel chips, "in lower-end Macs such as the mini in mid-2006, and higher-end models such as the Power Mac in the middle of 2007," CNET said, "citing anonymous sources."
Waiting for Confirmation
As I write this, there's been no confirmation as to whether or not the rumor is based on reality. But I suspect it is, and it comes from "sources," which kind of pre-supposes someone leaked the news against Apple CEO Steve Jobs' wishes.
"Steven P" is currently trying to use U.S. law to hammer Web publications AppleInsider, Think Secret and PowerPage, claiming they reported something he hadn't sanctioned and therefore it's OK for him to sue them for revealing trade secrets.
And if Apple kicking IBM out of bed to switch to Intel isn't a trade secret of considerable magnitude, what is?
"The move would be highly complicated, expensive and could cost Apple some of its less than 2 percent share of the global PC market," Reuters has Microprocessor Report's Kevin Krewell saying. "It's going to be a horrendous challenge for the software developers who just completed the transition to OS X from OS 9″ and could stall sales of the Mac PCs."
Furthermore, "If word gets out that Apple is changing platforms, why would they buy a PowerPC," Krewell asks, adding he also expects a negative reaction from developers at Apple's conference."
Anticipating Reaction
A "negative reaction," eh? Not good.
The Wall Street Journal was the first to spread the news and if the WSJ/Reuters/CNET stories turn out to be accurate, that'll make three major media print and electronic outlets Steve P will surely have to sue if he's to maintain his credibility and prove he's a man of honour and integrity. And what about all the other publications online and offline that are quoting each other quoting CNET?
Will the mainstream media underscore their dedication to fair and honest reporting by demanding that Apple either treats Reuters, the WSJ, CNET, et al in the same way that it's treating AppleInsider, Think Secret and PowerPage, or drop its lawsuits against the latter group altogether?
AND — if the rumor turns out to be, well, just a rumor, will Jobs sue CNET and the WSJ for spreading potentially damaging gossip?
Don't stay tuned.
---
Jon Newton
, a TechNewsWorld columnist, founded and runs
p2pnet.net
, based in Canada, a daily peer-to-peer and digital media news site focused on issues surrounding file sharing, the entertainment industry and distributed computing.
---