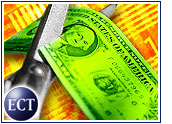 Answerthink, Inc. (Nasdaq: ANSR) wasdown 11/32 at 3 21/32 early Wednesday after the Internet consulting companysaid it will take a charge to fourth-quarter earnings as it reduces itsdependence on dot-com clients.
The Miami, Florida-based company said it expects pro forma net income forthe quarter to be between breakeven and US$1 million, on revenue of $68million to $70 million.
The results will be below previous expectations because of planned job cuts,allowances for bad debt and the deferral of other projects, Answerthinksaid. The firm will also take an after-tax charge of about $7.5 million,resulting in a net loss of $7.5 million to $8.5 million.
For the year, the company said, it expects pro forma earnings to total $22million to $23 million, or 49 to 53 cents per share, on revenue of $320million to $325 million.
"While dot-coms have historically represented less than 15 percent of ourbusiness, the diminished demand for these type of projects impacted ourfourth-quarter results," said chairman and chief executive officer Ted A.Fernandez.
"We felt that it was important to quickly deal with our exposure related tothese dot-com projects, and more importantly, focus our organization on oursignificant Global 2000 relationship base, where we expect strong 2001demand," Fernandez said.
"We know that some of our current dot-com clients have great prospects forsuccess," Fernandez said. "Therefore, we plan to maintain a limited numberof very strategic relationships. However, we wanted to take the steps now tohelp ensure that our 2001 operating results would not be dependent on thesetypes of initiatives."