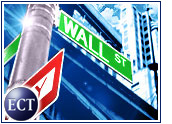 Canadian Imperial Bank of Commerce (CIBC) is reportedly in advanced negotiations to purchase online brokerage Ameritrade (Nasdaq: AMTD) for up to US$1.8 billion.
Citing people with "knowledge of the negotiations," USA Today reported Friday that CIBC, Canada's second largest bank, wants to buy Ameritrade to extend its reach into the U.S. and to compete with rival Toronto Dominion Bank, which controls brokerage TD Waterhouse.
"It would make sense for a couple of reasons," Morningstar.com analyst Harry Milling told the E-Commerce Times. Milling said the deal would allow Ameritrade to offer its customers more banking services and would give CIBC access to Ameritrade's investment clients.
Ameritrade spokesperson Donna Kush told the E-Commerce Times, "We do not comment on rumor or speculation." However, Ameritrade chairman Joe Ricketts, who with his family owns more than 60 percent of the company, reportedly said recently that he would be willing to sell the company if the price were right.
Premium Price
CIBC reportedly is offering between $9 and $10 a share for Omaha, Nebraska-based Ameritrade.
Ameritrade's stock has traded as high as $21.50 in the past year but closed Thursday at $7.96. In morning trading Friday, Ameritrade was up to $8.47.
If the deal is consummated, CIBC reportedly plans to channel Ameritrade's services through its Amicus unit, which provides electronic banking services in partnership with a number of online and brick-and-mortar companies, including Internet giant Yahoo! (Nasdaq: YHOO) and supermarket chains Safeway (NYSE: SWY) and Winn Dixie(NYSE: WIN).
Diversification Key
The online brokerage sector has been hit hard by the economic downturn, and Ameritrade is particularly vulnerable because, according to Milling, "Ameritrade's product offerings are not as robust as its competitors."
Pointing to rival E*Trade, Milling said that E*Trade's diversification strategy, particularly its entry into the mortgage industry, will help it survive lean times because E*Trade is building a monthly revenue stream to supplement a decline in trading volume.
"Ameritrade just does not have the diversity and revenue mix," Milling said.
However, there are signs that Ameritrade's investment business is rebounding. Figures released Friday by Ameritrade show that the company's average trading volume had rebounded from a seven-month low of 100,000 in March to 119,000 in April.
Pruning Time
In an effort to weather the harsh stock market climate that is currently battering online brokerage houses, Ameritrade has taken steps to cut costs and increase revenue.
In April, the online brokerage announced it was slashing its advertising budget by roughly 25 percent and pink-slipping between 270 and 300 workers, or 14 percent of its payroll.
The layoffs, which Ameritrade said will allow it to save $12 million annually, were the company's second round of cuts this year. In January, Ameritrade shaved its rolls by 9 percent, or about 230 full-time employees, and eliminated 100 temporary positions.
Also in April, the online brokerage firm announced that beginning July 1st it will charge $15 per quarter in maintenance fees for accounts with less than $2,000 in assets or fewer than four trades in six months. Retirement and beneficiary accounts will be exempt. The company also said that it will begin delivering statements and trade confirmations by e-mail, charging a $2 fee for each paper confirmation.