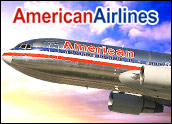 American Airlines has become the latest and most high-profile corporation to take on Google's AdWords program, claiming the paid search service infringes on the airline's trademarks without compensation.
American said it filed a lawsuit Thursday in Federal District Court for the Northern District of Texas, accusing Google of violating trademark laws by selling access to search terms such as "American Airlines" and "AA.com" to third parties.
Companies that buy those listings have their ads and links to their Web sites appear alongside so-called organic search results, and many businesses have complained that by selling trademark terms or closely related words and phrases, Google is enabling competitors to grab customers even while Google itself is enriched.
AdWords remains Google's largest single source of revenue.
Google issued a statement saying it takes trademark issues seriously and has designed AdWords to take them into account.
"We are confident that our trademark policy strikes a proper balance between trademark owners' interests and consumer choice, and that our position has been validated by decisions in previous trademark cases," Google said.
Not So Easy
The most recent case supporting Google's stance involved insurance company Geico, which lost in its bid to force Google to stop selling trademarked phrases through the AdWords program. Other cases are still wending their way through the courts and one of the first such claims, brought more than three years ago by American Blind and Wallpaper, isset to go to trial in California later this year.
American Airlines said it took the legal step to protect the value of its brand.
"American's goals are to continue to protect our trademarks that have been established over our 80-year history and to prevent customer confusion," the airline said. "American is asking Google to stop selling our trademarks to others who are purchasing them and related terms to confuse and/or divert consumers searching for AA.com or American's products."
American is also seeking unspecified "relief for the damages such practices are creating," but was quick to say it did not object to Google's overall business model and hoped to maintain a professional relationship long-term.
A search on the term "American Airlines" in the Google search engineMonday returned as the top result a sponsored link from American itself as well as three AdWords listings from discount travel resellers. American's Web site was also the top organic result.
American as Apple Pie
It may take the Supreme Court to settle the question for good, with at least one case already in the hands of the appeals courts, noted Santa Clara University School of Law Professor Eric Goldman.
The American suit may prove to be a costly decision when all is said and done, he noted.
"The airline apparently decided it was worth going to war over this issue — and is prepared to pay the big bucks to litigate this case accordingly," Goldman added. "If this lawsuit runs its course, I expect this to be a hard-fought and expensive lawsuit."
The case includes many of the same claims as earlier actions, including the allegation that brands and trademarks are being diluted and that customers are being confused by the sponsored listings. Many of the keyword buyers appear to link through to resellers who distribute seats for American and other airlines, Goldman noted.
"Lawsuits over consumer diversion often cost more than the lost profits from the allegedly diverted consumers," Goldman said. Like most airlines, American has an extensive loyalty program in place and Google would likely question whether consumers would be swayed in such a major purchase by keyword advertising.
American must have filed the case knowing that most other suits have gone nowhere fast, search expert John Battelle told the E-Commerce Times. The fact that its brand contains a word as generic as "American" may also be grounds for legal attacks, he added.
The trademark issue has been percolating for some time without clear resolution, Battelle noted, and though Google is likely eager to avoid having to juggle multiple court cases at once, "it appears they are confident in the legal position they have staked out on trademarks and AdWords."