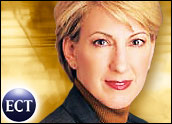 If John McCain wanted a strong woman on his side, he couldn't have done much better than Carly Fiorina, the former CEO of HP who has recently been making a name for herself on the political scene.
Fiorina has been serving as an economic adviser and advocate for the McCain campaign, and there have been rumors that she is a vice-presidential hopeful. In March of this year she was appointed to serve as the Victory Chairman for the Republican National Committee.
"Fiorina is a remarkable American success story and one of the nation's great business leaders," read a March 7 press release from the RNC. "Her business experience will be vital to Senator McCain and the RNC as we travel the country talking about the Senator's plans to create jobs for working families and set the conditions for economic growth."
Fiorina served as CEO of HP 1999 to 2005, when the company's poor performance led to her being forced out by the board. Since then, she has focused her energies on projects like her consulting organization, the Fiorina Group, which advises business and governmental agencies, including the Department of Defense and the U.S. State Department. She also runs the Fiorina Foundation, which provides seed money to initiatives related to poverty and inequality. She has been a frequent media spokesperson regarding economic, business, and tech industry issues, and she has been closely involved with the McCain campaign from its inception.
Veeping and Vetting
It is true, however, that she has primarily business — and not political — experience. And some people see this as a possible impediment to her being named as McCain's right-hand woman.
"The question is, does she really have the political experience to be vice president?" Herb London, president of the Washington D.C.-based Hudson Institute, told TechNewsWorld. "She is a very formidable person, but I don't think she has the required qualifications to be the vice president."
London said that she would likely play a significant role in a McCain administration, however, perhaps as a trade representative or even Secretary of Commerce.
"Her knowledge of technology goes a long way to addressing some of the concerns in the McCain campaign," London said. "She has an understanding of what it takes to maintain an edge in technology."
He sees her skills as being particularly applicable to issues related to trade.
"We want to cultivate markets around the world, and she has a good understanding of that," London said. "Her experience at HP and her knowledge of the industry go a long way."
Many experts also think that as VP or cabinet member in a McCain administration — or in other political roles if McCain loses the election — she could have an impact on scientific education in this country, which will be vital to developing the tech industry of the future.
"I think she would actually force the administration to deal more aggressively with flaws in the American education system and enhance math and science learning at the K-12 levels," Tim Jemal, founder and CEO of Jemal Public Affairs and Executive Director of the Technology Leadership Political Action Committee, told TechNewsWorld.
London, too, thinks that she would be a positive force in the realm of scientific and technical education in this country.
"One of the keys to maintaining a competitive edge in technology is to develop educational institutions that can train the engineers who are capable of advancing existing products, developing new ones, and maintaining the competitive edge," London said. "Fiorina understands the importance of education."
Courting Women and Techies
Some political analysts think that McCain is counting on Fiorina to bring in women voters who at one time supported Hillary Clinton.
"He's using her as a visible outreach to Hillary supporters," David E. Johnson, CEO of Strategic Vision, a Republican-focused public affairs agency headquartered in Atlanta, told TechNewsWorld. "He's using her to show that he listens to female voters and that he's interested in courting those voters."
Jemal also sees the political relationship between McCain and Fiorina as partly a play to win votes from Hillary supporters and other Democrats.
"The Hillary Clinton factor has made her a more attractive candidate," said Jemal. "Her addition to the ticket could provide McCain an opportunity to win over Democrats, particularly older women, who were staunch supporters of Hillary Clinton."
With her background in the tech industry and her understanding of 21st-Century technologies, Fiorina is likely having a hand in making the once-Luddite McCain campaign more tech-friendly.
"We can see her influence in how they're using YouTube," Johnson said. "Part of that is her influence and her understanding of technology. They're suddenly becoming aware of how important the Internet is."
Regarding her vice presidential eligibility, Johnson sees several drawbacks — including the possibility that she could prove too moderate on issues held near and dear by social conservatives, such as abortion and gay marriage.
"She's really not been vetted," said Johnson. "She's not nuanced enough to know how to handle hot button issues like abortion."
If she doesn't get named VP, Johnson predicts Fiorina could look toward a governorship or a Senate seat. On the other hand, however, he thinks her lack of political experience might actually be a positive characteristic in a year when voters are demanding change.
"She is an outsider in a year when voters are disgusted with incumbents overall," Johnson said. "When voters are angry at business as usual, she could get elected."