Well Black Friday has come and gone for another year here in the land of stars and stripes, and so has that small obstacle known as Thanksgiving. Now it's Cyber Monday at last, and we can all sit back and shop to our hearts' content, unimpeded by inconvenient social gatherings or worker-welfare concerns.
Buy Now!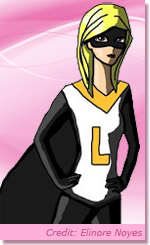 Down at the Linux blogosphere's seedy Broken Windows Lounge, there was a steady stream of patrons seeking refuge over the weekend from the shopping madness outside. Always one to avoid crowds whenever possible, Linux Girl committed herself early to keeping her favorite barstool warm instead.
Comfortably situated with a warm Toddy Tux in hand, she overheard more than a few Cyber Monday shopping plans.
'A New GPU for My PC'
"It looks like I'm gonna get all I want on Black Friday, so there really won't be a point in Cyber Monday," Slashdot blogger hairyfeet began. "Of course, now it's really Black Thursday, as they are all opening early, but I have just about all the tech I can possibly use: A netbook, smartphone (rooted and ROMed of course, AreaROMQ Android ROMs run rings around stock) several desktops and a laptop for the GF — what more can I get?
"If they have one at the right price, I might be getting a new GPU for my PC, but that would be about it," hairyfeet added.
"I hope to upgrade to a larger SSD this year," offered Hyperlogos blogger Martin Espinoza. "I'm struggling to keep both /usr and /home on what I've got now."
'I Build Kernels Just to Warm It Up'
Blogger Robert Pogson was similarly modest in his plans.
"With GNU/Linux thriving around my home, there isn't much need for new IT," Pogson explained. "An old notebook is being retired (broken display, 512 MB RAM) but may not need to be replaced. I have a box of thin clients sitting idle and they are good for years to come.
"My 6-year-old box, Beast, is getting a little long in the tooth, but it still idles 95 percent of the time," he added. "I build kernels occasionally just to warm it up."
'It Just Won't Die'
Pogson doesn't rule out the tablet possibility — "just for fun — but I have an old smartphone that does everything I need to do while mobile (GPS, camera, browsing, ballistics)," he told Linux Girl. "It just won't die. Perhaps I will have to drop it or wait until its battery dies…"
In general, "the problem with new IT for me is that most of the newest stuff is tiny and I have large hands and weak eyes," he said. "So, at most I expect to buy this year some additional storage or a new keyboard, an accessory to existing IT.
"I have no need of buying any software licenses with Debian's huge repository available," he concluded. "If I did buy something with a CPU, it would be a small, cheap ARMed computer to soothe my inner geek. Santa could probably afford that, but I do need new socks and stuff."
'That Is So 2000'
Cyber Monday will be "pretty boring in my house this year," said Linux Rants blogger Mike Stone. "I have three kids, but none of them are really old enough to appreciate much in the realm of technology.
"I'm thinking I might keep an eye out for a new wireless router, but the rest of my budget will be reserved for my kids," Stone added.
Consultant and Slashdot blogger Gerhard Mack had no qualms about disregarding Cyber Monday altogether.
"I have no Cyber Monday shopping plans whatsoever," Mack told Linux Girl. "I buy things when I want or need them, and not on someone's silly schedule and especially not on a day better spent with friends or family. I fully admit to loving my toys, but things are just things and some things are far more important."
Indeed, "the whole Cyber Monday thing is really overrated," Google+ blogger Kevin O'Brien agreed. "In 2013, does anyone believe you need to go to the office to get online? That is so 2000."
'Pathetic' – and More
Speaking of relics from the past, one category of shopping items not mentioned by anyone at the Broken Windows Lounge were the witty T-shirts, mugs and other novelties Microsoft recently released as part of its diabolically clever "Scroogled" anti-Google campaign.
Of course, the items did apparently sell out almost immediately — thanks in large part to enthusiastic purchases by Google employees, according to reports — so perhaps that's why Linux bloggers didn't even try.
There were, however, plenty of opinions expressed about this latest move from Redmond — let's just say Wired's "pathetic" was only the beginning.
'Absolutely Hilarious'
"I can't for the life of me understand why Microsoft thought this was a good idea, but the fact that this has backfired so spectacularly is absolutely hilarious," Mack chuckled. "Microsoft needs to just give up on trying to influence popular culture."
Similarly, "it has a laughably desperate feel to it, and reeks of the dirty politics it originated with," Stone agreed. "Beyond being laughable and desperate, it's also extremely hypocritical. Is there anything that Microsoft is attacking Google for that they don't do themselves? I'm betting no."
And again: "They say people with a roof made of glass shouldn't throw stones on others," began Google+ blogger Gonzalo Velasco C. "Who's micro$oft to talk about spying!!?? Are they trying to deviate the attention away from the INTENTIONAL back doors their OS versions have had since 95?
"Besides that, any company that spies or stores our data or preferences without our permission is equally bad — period," he concluded.
'Name Something That Is False'
Hairyfeet had a different take on Microsoft's claims.
"Name something that is false about them," he said. "Sure they are silly, but you know what? It's the silly and stupid ads you remember. After all, I bet you can't tell me what the last five Taco Bell ads were about, but you can remember the little dog, right?
"If Google doesn't like it, maybe they should change their TOS back to what it was before and stop all the data-mining, yes?"
Then again, there's also a legal side to the situation, Pogson pointed out.
'Silly and Desperate'
"This is a violation of the Lanham Act," Pogson told Linux Girl.
"Google could sue M$, but why bother? M$'s efforts make M$ look silly and desperate to consumers," he said. "Great! M$ used to have a policy of hiring others to besmirch competitors, but now they need $billions poured into the effort to try to maintain market-share in any aspect of IT.
"Google has great rapport with consumers, and M$ — rather than produce products the consumer wanted with great price/performance — chose to try to damage the competition," he concluded.
'They're Running Scared'
Of course, in doing so, it "hired the guy who couldn't get the nomination for Hillary Clinton," quipped O'Brien. "Good move. The best thing for Google is knowing that Microsoft is using advertising against them — Microsoft has not had an effective ad campaign in the last 15 years (see Bill Gates and Jerry Seinfeld).
"The old joke goes that if Microsoft was selling sushi, they would advertise it as 'cold, dead, raw fish,'" O'Brien added.
Last but not least, Espinoza offered a particularly succinct summary of the situation.
"The 'Scroogled' gear was guaranteed to be an instant collector's item when it was first designed because of what it says about Microsoft — that they're running scared," Espinoza concluded. "When you have to resort to mudslinging instead of simply competing, it's clear that you're playing catch-up."