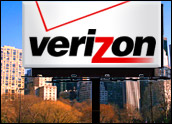 Verizon Wireless is planning to cancel its unlimited data offering for smartphones this summer, replacing it with tiered packages including a family plan, according to comments made by CFO Fran Shammo at the Reuters Global Technology Summit.
It will be a blow to some heavy users accustomed to the flat fee of US$30 — but not too great a shock, as the move has been expected. Verizon's chief competition, AT&T Wireless, closed down its all-you-can-eat data buffet last year.
Verizon Wireless did not respond to the E-Commerce Times' request to comment for this story.
Isn't It Ironic?
The details of Verizon's new packages and price points are unknown, but prevailing wisdom suggests they will mimic the tiers AT&T has established — namely, 2 GB for $25 a month or 250 MB for $15 per month.
What is certain is that the era of unlimited bandwidth is ending, Bytemobile VP of Global Marketing Ronny Haraldsvik told the E-Commerce Times.
It is an ironic turn of events, he noted, given that the operators set subscribers' expectations for unlimited data in the first place, with their "4G 'do anything' advertising and catchy device manufacturers' billboards."
More Is Coming
The carriers just can't afford to offer such a service anymore, said James Brehm, senior strategist and consultant with Compass Intelligence.
"Even [Sprint CEO] Dan Hesse says Sprint will have to raise the price of its unlimited data plan if it wants to keep it unlimited — and he is a big proponent of the unlimited concept," Brehm told the E-Commerce Times.
These pricing and packaging experiments are going to spread into other categories, such as call quality, he predicted.
Certainly, customer profiles — heavy user, light user, all-Facebook, all-the-time user — will become ever more refined as carriers study patterns and tweak pricing accordingly.
"Companies will carefully determine which users are entitled to use the most-coveted devices and then manage consumption and rate plans as carefully as they do with voice usage," Randy DeLorenzo, chief mobility officer at Xigo, told the E-Commerce Times.
Rising Costs …
The prices are rising because, simply put, the costs of the service to the providers are rising, Brehm explained.
"There is the cost of infrastructure buildout, spectrum, engineering, support and management — all of that is rising," he pointed out.
… Mean Consumer Gouging?
It's unlikely that carriers will try to pad the price increases with pure margin for them, in Brehm's view.
"There is too much competition out there — even within carriers — for that too happen," he said, referring to prepaid options that compete with two-year contracts. "Most consumers will walk if they have a better option, and they do."
In fact, Verizon could conceivably lower its prices if customers balk, Brehm said.
In the long run, though, consumers stand to benefit from tiered pricing, said Dan Geiger, vice president at BroadHop
Because pay-as-you go pricing compensates telecoms for the bandwidth that is consumed, telecoms will have more incentives to provide new services, Geiger told the E-Commerce Times.
Possibilities include high-quality traffic shaping for real-time services like video from NetFlix, voice from Skype, business services from WebEx, or video conferencing into people's living rooms and home offices, he said.
Establishing Price Points
Some consumers may quibble with the notion that they stand to benefit from the tiered pricing, of course, depending on how high those price points go.
Right now, setting them is still a work in progress for the industry, said Mike Manzo, chief strategy officer at Openet.
"Carriers have to be forward-thinking and balance operating costs with pricing plans for consumers," he told the E-Commerce Times, "as this will determine additional infrastructure or spectrum that is put into place for future access and plans."