Icahn Turns His Powers of Persuasion on Tim Cook
MacNewsWorld
Carl Icahn, still licking his wounds after an unsuccessful attempt to prevent Michael Dell from taking his company private, turned his sights on Apple Wednesday, recommending the company buy back US$150 billion in stock from the market.
Apple stock is undervalued at the moment, making it an ideal time for a large repurchase of stock, Icahn reasoned in an open letter to Apple CEO Tim Cook. Icahn, a former corporate raider, is now the majority shareholder in Icahn Enterprises, a diversified holding company. He posted his letter to Cook on his new website, Investors Square Table.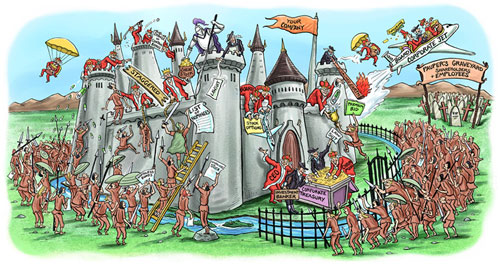 (click to enlarge)
Apple has a massive amount of cash on its balance sheet -- $147 billion -- and its stock price, now around $540, is only nine times future earnings, Icahn explained. By comparison, S&P 500 companies are selling at 14 times earnings.
"With such an enormous valuation gap and such a massive amount of cash on the balance sheet, we find it difficult to imagine why the board would not move more aggressively to buy back stock by immediately announcing a $150 billion tender offer (financed with debt or a mix of debt and cash on the balance sheet)," Icahn wrote.
Putting Money Where Prediction Is
A $150 billion buyback would result in an immediate increase in earnings per share of 33 percent, and in three years, Apple stock would be selling at $1,250 per share, according to Icahn's reckoning.
"It is our belief that a company's board has a responsibility to recognize opportunities to increase shareholder value, which includes allocating capital to execute large and well-timed buybacks," Icahn wrote.
He also hinted that more than an open letter may be in order if Apple's board doesn't heed his advice.
"Apple's Board of Directors does not currently include an individual with a track record as an investment professional," he wrote. "In my opinion, any further delay in executing the buyback we hereby propose will reflect this lack of expertise on the board."
Icahn expressed a willingness to put his money where his prediction is by withholding his own 4.73 million shares of Apple stock from the buyback.
A Good Thing
A buyback could be a good thing, maintained Chris Versace, editor of PowerTrend Profits.
"Apple will improve its earnings, which is a good thing," he told MacNewsWorld. "It shows that management is committed -- that's a good thing -- and they've got ample cash to continue to invest in the business -- and that's a good thing."
Apple need not touch its cash reserves to finance a buyback, Icahn noted in his letter. It could borrow the money.
"While this would certainly be unprecedented because of its size, it is actually appropriate and manageable relative to the size and financial strength of your company," he wrote. "Apple generates more than enough cash flow to service this amount of debt ... ."
Why add to Apple's debt to pay for the buyback when it's sitting on so much cash?
"A lot of the cash is overseas, and if you brought it back to the United States for a buyback, it would get taxed at a very high rate," business professor Scott Testa told MacNewsWorld.
"Since it's so cheap to borrow money, it makes no sense to bring the money back into the United States and get killed from a tax perspective," he added.
Greedhead or Champion of Democracy?
The buyback may be just a first step for Icahn.
"I do think we'll see Carl Icahn pressure them to do something with the dividend," Versace predicted.
Despite Icahn's declarations that he's interested only in what's best for Apple's investors, the self-proclaimed champion of "real corporate democracy" has his doubters.
"It's important to look at Carl Icahn's track record -- it's all about making a fast short buck," Patrick Moorhead, founder and principal analyst at Moor Insights and Strategy, told MacNewsWorld.
"All guys like Icahn care about when they say they want to return capital to shareholders is propping up their position," said Rocco Pendola, director of social media for the TheStreet.com.
"When you own the position sizes these guys have in these stocks, and a dividend is declared or a buyback happens, these guys make out like bandits," he told MacNewsWorld.
"Here's a guy, Carl Icahn, who has more than anybody, and he still wants more," Pendola said. "He's a greedy S.O.B. There's no way around it."