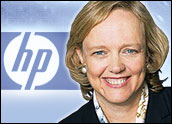 After months of dismal news, HP had something positive to report to its shareholders: fiscal Q1 numbers that exceeded both Wall Street and company expectations. Granted, the bar was set exceedingly low for the company, which shocked investors last year with news that it would have to take an US$8.8 billion impairment charge, $5 billion of which was directly attributable to its Autonomy acquisition.
Still, investors welcomed CEO Meg Whitman's litany of achievements: HP beat its non-GAAP diluted outlook for the quarter by $0.11 per share. It improved execution; ramped up its channel and go-to-market efforts; and began seeing a positive impact from the restructuring program it announced in May 2012.
The company will continue to improve this year, Whitman said.
The promise of a rosy future apparently was enough to dampen the bad news for investors in the here-and-now.
For the first quarter, net revenue of $28.4 billion was down 6 percent year over year and down 4 percent when adjusted for the effects of currency. Profit was 82 cents a share, down 11 percent from a year ago.
However, analysts had been expecting even worse: sales of $27.8 billion and profit of 71 cents.
Troubled Waters
Once their surprise at the better-than-expected earnings wears off, investors' dour view of the company will likely resurface.
"While HP beat analyst expectations, results are far from demonstrating a sustainable company in the fast-changing personal technology market," Adam Hartung, principal of Spark Partners, told the E-Commerce Times.
HP is fast on the road to irrelevance, and the most recent earnings report does not change this, he declared.
What Whitman has done is adopt a spaghetti strategy for recovery, said Hartung. "She's throwing all the technology she can find against the wall, launching products such as Chromebooks and Android tablets, while also preparing to launch some Windows 8 products with Microsoft subsidies. She's hoping something will stick with the market and create revenue growth while she keeps trying to cut costs."
"This approach will have no more value long-term than the commodity sales PC business did," he predicted.
Samsung and Amazon both have demonstrated that licensed products such as Android can succeed in the market if a company invests heavily to modify them in innovative ways, resulting in higher sales, Hartung added.
"HP has not done this," he maintained. Instead, HP has been "rifling through fast launches of unexciting generic implementations which leave customers far from paying a premium price or buying in droves."
Business Units Faltering
A deeper dive into the earnings report gives little reason for hope, Andreas Scherer, managing partner with Salto Partners, told the E-Commerce Times.
"If you take a look under the hood, you'll see that all major business units are down year-over-year and quarter-over-quarter," he said.
For example, Printing and Personal Systems brought in $14.13 billion revenue — $1.02 billion less than the $15.15 billion it accounted for in Q1 of 2012.
"This division of HP is competing in a tough market segment without any significant market share in hot segments such as tablets and smartphones," Scherer said.
Enterprise Services brought in $5.919 billion revenue, dropping more than $433 million quarter-over-quarter, he pointed out.
"What's even worse — the group only delivered only $76 million EBIDTA," said Scherer. "A service organization operating at 1.3 percent EBITDA margin is at this revenue level a significant concern."
Another 5-10 percent drop in revenue and HP is going to lose a lot of money in this business unit, he added.
Of course, Whitman gave a more upbeat outlook for the rest of FY 2013, Scherer noted.
"This could mean that the sales pipeline across the major business units looks stronger than the current numbers indicate," he suggested. "It could mean that there are new products in the pipeline that can make an instant impact. Or it could mean that HP's strategy is simply hope."