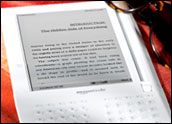 Authors and publishers of select Kindle e-books will soon be able to earn royalties as high as 70 percent of a title's list price, net of delivery costs, under a new plan announced by Amazon on Wednesday.
The new option will be available starting June 30 for in-copyright Kindle books whose list price is both between US$2.99 and $9.99 and at least 20 percent below the lowest list price for the physical book, Amazon stipulates; at launch, it will also be available only for books sold within the United States.
"Today, authors often receive royalties in the range of 7 to 15 percent of the list price that publishers set for their physical books, or 25 percent of the net that publishers receive from retailers for their digital books," explained Russ Grandinetti, vice president of Kindle Content.
Up From 35 Percent
The new 70 percent plan will provide an alternative for Kindle Digital Text Platform (DTP) authors and publishers, but it won't replace Amazon's current standard royalty percentage of 35 percent, which will still be an option. For authors backed by publishing companies, that percentage is typically shared.
Books from authors and publishers who choose the 70 percent royalty option will have access to all the same features and be subject to all the same requirements as books receiving the standard royalty rate, Amazon said.
Using the new royalty program, however, authors and publishers can earn more on every sale.
Given Amazon's delivery cost of $0.15 per megabyte and the current median DTP e-book file size of 368KB, delivery costs amount to less than $0.06 per unit sold for an average e-book, Amazon said. For an $8.99 e-book, then, a self-publishing author would make about $3.15 under the standard option but $6.25 under the new 70 percent plan.
'Amazon Feels Like an Underdog'
"This is clearly a preemptive strike against the Apple tablet," Paul Gillin, blogger, podcaster and author of The New Influencers, told the E-Commerce Times.
Indeed, the announcement comes exactly a week before Apple is expected to unveil its forthcoming tablet device, which will likely compete head-on with Amazon's Kindle and other e-readers.
Apple's tablet, in fact, is one of several that are expected to be announced in the coming months; Freescale, for example, recently unveiled its own reference design.
Apple's device will likely be integrated with iTunes, Gillin noted, giving Apple immediate access to "lots of authors and publishers who will want to go that way."
Despite being three years ahead in the e-reader market, "Amazon feels like an underdog," he said.
An 'Ace in the Hole'
Amazon's higher royalties on lower-priced e-books target smaller authors and publishers, which many consider to represent "the future of publishing," Gillin noted.
The self-publishing arena, in fact, is one "ace in the hole" that Apple doesn't yet have, so it makes sense Amazon is trying to "make nice" with such content producers.
Yet tablets will further legitimize self-publishing, so Amazon needs to make sure it is the "platform of choice for small publishers," he concluded.
'Amazon Wants to Be in Front'
Amazon is trying to "make sure it's ahead of the curve before Apple gets involved," agreed Kurt Scherf, vice president and principal analyst with Parks Associates.
This move "brings them more smaller publishers" and is likely an attempt to "lock in the 'long tail' of the content," Scherf told the E-Commerce Times. "It's a volume and scale issue, which of course Amazon already knows well."
In the bigger picture, Amazon and others are "facing the challenge that Apple set the model for music and video" with its iTunes platform, he added. "They don't want that to happen again."
As new e-readers emerge, "clearly we will be looking at newspaper deals on these devices as well," he pointed out.
Overall, Scherf concluded, "the message here is that Amazon wants to be in front in terms of configuring these deals before Apple even gets there."