Nintendo Fans Get Their Hands on the Switch
By David Jones
Mar 6, 2017 3:57 PM PT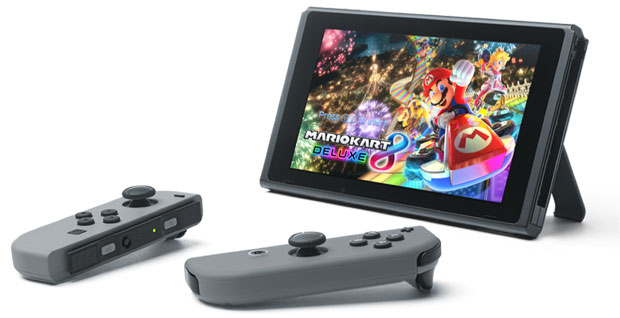 Nintendo's Switch made its debut at retail stores on Friday in one of the gaming industry's most anticipated product launches.
The console, which retails for US$299.99, is Nintendo's attempt to revolutionize the industry by offering a device that can provide interactive gaming quality and control whether on the big screen at home, or in a multitude of settings requiring portability -- ranging from an airplane to a public park or vacation spot.
"The launch of any new Nintendo system is a special day," noted Nintendo President Reggie Fils-Aime, "but in particular, we can't wait for you to play Nintendo Switch in the comfort of your living room, on your commute ... or really anywhere you want!"
Home or Road
The Switch comes with the main console, the left and right Joy Con controllers, a Joy-Con grip, a set of Joy-Con straps, a Nintendo switch doc, HDMI cable and power cord. The Nintendo Switch can be used alternately connected to a television set at home or as a handheld unit with its 6.2 inch high-definition screen.
Users can press a Capture Button on the left Joy-Con to take screenshots of games for sharing on social media. The right Joy-Con includes an IR Motion Camera and an NFC touchpoint to use for interaction with Amiibo figures.
The Legend of Zelda: Breath of the Wild, the first major title for the Nintendo Switch, also became available on Friday for the Wii U at a price of $59.99. Gaming titles set for future release include Mario Kart 8 Deluxe, ARMS, Splatoon 2, Fire Emblem Warriors and Super Mario Odyssey for the 2017 holiday season.
Nintendo has bet a lot of chips on the Switch. The company launched its first-ever Super Bowl ad, a 30-second spot that ran during the fourth quarter of last month's game. It also launched an extended 90-second spot on YouTube in order to build anticipation for the console and The Legend of Zelda: Breath of the Wild.
The extended ad features the new hit "Believer" from the Imagine Dragons, which made its debut earlier this year. The rock band has a history with Nintendo, notably having closed its 2014 performance at the Game Awards with a medley of songs from The Legend of Zelda: Majora's Mask, joined by Koji Kondo, a long time Nintendo music composer.
Too Pricey?
The Nintendo Switch has "good silicon DNA" due to its Nvidia Tegra processor, but it really competes with smartphones and tablets, observed Kevin Krewell, principal analyst at Tirias Research.
"The convertible nature of the product makes it unique in the console market, but it doesn't push that state-of-the-art for consoles," he told the E-Commerce Times, noting that it doesn't support 4K television.
The key to its success likely will be the gaming content, with Super Mario and Zelda titles demonstrating a strong start, Krewell said.
The Nintendo Switch misses the mark, suggested Rob Enderle, principal analyst at the Enderle Group, because it forces customers to expend a huge sum of money on a product that tries to compete simultaneously for the living room and the park bench, and it has limited success in both settings.
"I think the issue will be that it looks and feels like a tablet but is also supposed to be a gaming console," he told the E-Commerce Times. "However, both of those classes of products have embraced broad media -- including movies, TV and music -- and the Switch has not."
The Switch is crippled in both roles, Enderle pointed out, "as it costs as much as a standard game console and well more than the majority of tablets on the market."
More optimistically, "the Nintendo Switch is a brave foray into mobile chip powered game consoles," observed Ted Pollak, senior gaming analyst at Jon Peddie Research
"It's powerful, portable, and relatively affordable, considering it fills both home and mobile roles," he told the E-Commerce Times.
"Nintendo's first party titles are excellent, and we believe there will be some respectable traction from third parties," Pollak added. "We don't think the majority of hardcore gamers are going to buy this device -- but there is huge opportunity with everyone else."

---