Robust New FreeOffice Suite Proves Free Can Be Just as Good

SoftMaker's FreeOffice Linux office suite is a LibreOffice look-alike that provides strong performance compatibility with Microsoft Office documents.
SoftMaker, based in Germany, offers a line of open source offerings that compete with its commercial flagship office suite, SoftMaker Office 2016. It's a Windows/Linux cross-platform office suite with integrated applications for word processing, spreadsheets, presentations and email management.
The commercial version is nearly identical to the free, open source FreeOffice version. The FreeOffice line is distributed under the Mozilla Public License. SoftMaker Office Mobile for Android smartphones and SoftMaker Office HD Basic for Android tablets are free of charge.
Both the commercial and the free versions are fast and stable. They deliver nearly full compatibility with Microsoft Office files and have very few differences in performance or their look and feel.
Clearing the Air
All the software is delivered via download from the website. The commercial version is available with a 30-day free trial. After that, you need to upgrade to a proprietary license for US$69.95, which is the same price as the Home and Student editions of Microsoft Office 365.
Both the commercial and the open source editions of SoftMaker's office suite are nearly identical in features and performance. This raises the question for true-spirited Linux adopters, why opt for the purchase when you can legitimately get it for free?
I contacted SoftMaker with questions about the licensing and to verify that FreeOffice was open source. I asked the developer to explain the differences between the commercial and free versions. My intent was to download the open source edition for a review.
The company responded with download links for all of the products, along with a product key for Office 2016 and the serial number for FreeOffice. They are required after installation to begin using the software.
Both the paid product -- Office 2016 -- and its free open source counterpart -- FreeOffice -- are high-end performers. Linux lacks mainstream desktop publishing applications, so I was curious about the potential benefits of using the writing module called TextMaker.
Many of the Linux word processing packages are little more than glorified text editors. They usually flub on working with graphics.
OpenOffice and LibreOffice have gotten better at working with the graphics that page layout demands, but both alternatives can be a struggle when outputting to a printer.
That is not the case with Office 2016 and FreeOffice. Both word processors did very well with desktop publishing tasks. They also performed impressively with their spreadsheet and presentation functions.
Powerful Performance
I did not notice differences in how the products opened files, rendered formatting or converted various document types. They worked interchangeably without issues.
I spent much of my testing time loading existing office suite files from my large document archive. Stored in my collection are spreadsheet files, PowerPoint presentations, and heavily formatted newsletters and similar desktop publishing-style word documents.
Many of these documents had been created in Microsoft Word and then edited in open source replacements such as LibreOffice and OpenOffice. Some of the documents had a reverse history that originated with Microsoft Office.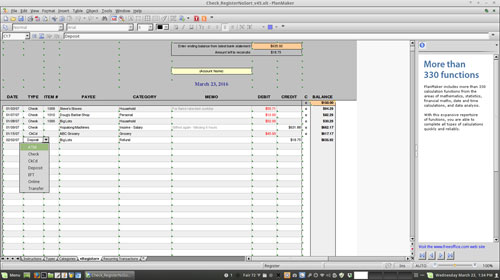 FreeOffice PlanMaker (spreadsheet module) displays all of the content of the original Microsoft Excel, including macros and pop-up cell data.
Devious Document Devices
The document history was not an issue in most cases. The files opened without formatting or display issues in both the pro and the free versions of the SoftMaker line. It did not matter whether the file was a text document, a slide presentation or a spreadsheet.
Spreadsheet files posed the most challenging test for compatibility. Many of the spreadsheets I use for business purposes rely on multiple sheets or tabs within the same document file. I also use comments that stay hidden in cells until clicked.
Those features work well in standalone applications but often do not render accurately in other products. Both the SoftMaker pro and free spreadsheet programs handled the formulas, cell display and general formatting fine.
Depending on the content, however, the appearance did vary, but the integrity of the content remained valid.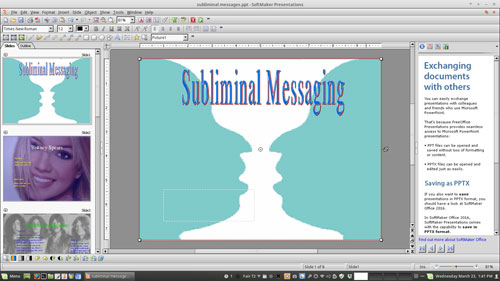 FreeOffice Presentations shows the editing panels of this Microsoft PowerPoint-created file without distortion and plays the slides flawlessly.
Defining Differences
This brings me back to the question I posed above. If performance is not an issue, why pay for Office 2016 when FreeOffice costs nothing -- or in my case, thanks to the developer, which product do I use since cost was not a factor?
The answer to either question comes with recognizing even a slight need that the commercial version satisfies over the free open source product. I found a few minor differences.
The user interface was nearly identical in both products. The look and feel are nearly identical to other office suits such as LibreOffice, OpenOffice, and earlier versions of Microsoft Word before the design change focused on the side panel and the ribbon bar.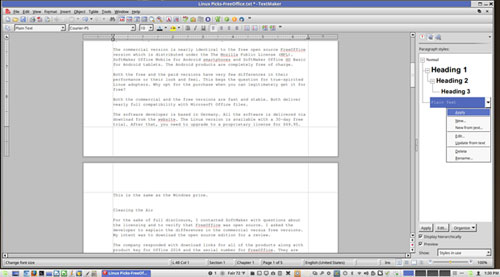 The user interface is identical in the commercial SoftMaker Office 2016 suite and the SoftMaker FreeOffice suite edition.
Some menu entries are slightly different. For example, the pro version has a few extra or replacement features. The only visual difference is the vertical style panel on the right side of the window in the pro version. The free version has a user guide.
For the Birds
SoftMaker Office 2016 includes the open source Mozilla email module Thunderbird. FreeOffice does not include Thunderbird.
I find this to be somewhat strange. You can run Thunderbird separately. It is a free Linux package whose integration has no purpose in the office suite that you pay for.
The pro version provides numerous templates in the Presentation module that you do not get in the free version, which offers four basic templates. However, you can access almost the same number of templates for the three modules from within the File/New menu of both the pro and the free versions.
In the tools menu, the pro version includes a thesaurus and the Berlitz standard dictionaries. If you correspond with colleagues in non-English-speaking lands, those could be must-have features that justify buying the commercial edition. The four Berlitz translation dictionaries offer easy translation among English, Spanish, Italian, German and French.
The free version has no thesaurus and no Berlitz dictionaries, but it does include a German-language spelling dictionary. The pro version has a long list of additional European languages to select from.
Smart Features
Both versions include several options in the tools menu related to tracking changes made to content. Even better is the SmartText feature found in both the paid and the free versions.
SmartText lets you reduce often-used names or phrases to a short abbreviation. For instance, you can create a SmartText entry for BR and have it replaced by "Best regards" when you press the space bar.
The naming game for the bundled software might be less smart. The word processor is called "TextMaker" and has a T as its icon emblem. The spreadsheet application is called "PlanMaker" and uses a P as the icon emblem. The PowerPoint clone is called "Presentations Software" and uses an S as its icon emblem.
Redeeming Value
SoftMaker describes both its free and its commercial office suites as intuitive and easy to use. Neither package has anything even mildly different in the user experience to justify being intuitive. The menus and operation mimic industry standards.
SoftMaker's claim to fame with both releases, however, is the high-quality computer typefaces. Business and home users as well as professional designers have an edge with all the included typography elements.
Getting It
FreeOffice comes in five Linux installation options.
A .rpm package in both 32-bit and 64-bit versions is available for Suse, Red Hat and Fedora distributions.
Two Debian/Ubuntu-based .deb packages in 32-bit and 64-bit versions support multiarch and nonmultiarch systems.
A third download option is available in a .tgz archive with an installation script that works with all Linux distributions. That option is ideal for users who lack root access on the system.
Bottom Line
FreeOffice is one of the best-performing Microsoft Word replacement suites for Linux. It is also a great replacement for Microsoft Windows run under WINE.
FreeOffice's design makes it a near twin to SoftMaker Office 2016. The differences are minor. If you have a compelling need for a pay-only option, then download the 30-day free trial edition to verify that you really do prefer the Office 2016 version.
Want to Suggest a Review?
Is there a Linux software application or distro you'd like to suggest for review? Something you love or would like to get to know?
Please email your ideas to me, and I'll consider them for a future Linux Picks and Pans column.
Use the Talkback feature below to add your comments!

---