Facebook's Instant Articles Raise Troubling Questions
By Richard Adhikari
May 13, 2015 2:31 PM PT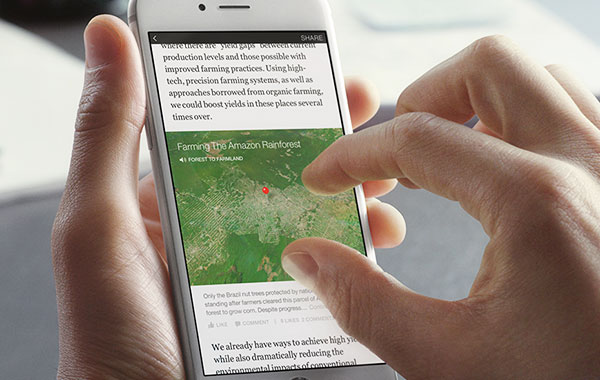 Facebook on Tuesday introduced Instant Articles, a feature that lets publishers place their stories directly on its site. Nine major media outlets have signed on so far -- The New York Times, National Geographic, Buzzfeed, NBC, The Atlantic, The Guardian, BBC News, Der Spiegel and Bild.
Introducing Instant Articles, a new tool for publishers to create fast, interactive articles on Facebook.

Posted by Facebook Media on Tuesday, May 12, 2015
The content is optimized for mobile devices, and Instant Articles currently is available only on iOS. Publishers get 100 percent of the revenue from ads they place with their content.
Apple generally gets a cut of revenue from ads carried by publications on iOS, but it won't get a commission for ad placements on Instant Articles, said Facebook spokesperson Alexa Cassanos.
Facebook will commit to a hands-off policy on news coverage, she told the E-Commerce Times. Publishers "are in complete control of what they publish on Facebook -- both links and Instant Articles. The only exception is determined by legal restrictions and our community standards."
Speed Matters
Stories placed through Instant Articles will load up to 10 times faster on mobile devices than other stories on Facebook, the company said.
Several interactive features come with Instant Articles. One lets consumers tilt their phone to zoom in and explore photos. Scrolling through stories will trigger autoplay videos. Readers can explore interactive maps, listen to audio captions, and even Like and Comment on individual parts of an article in-line.
What these features -- especially autoplay videos and audio captions -- will do to consumers' data plans is anyone's guess, but that issue might end up annoying consumers, with adverse results.
Publishers will be able to track data and traffic through ComScore and other analytics tools, and they can use Facebook's Audience Network to monetize unsold inventory.
Instant Articles can include one large banner ad or two small ones for every 500 words of content. Publishers will be limited to four ads per article, no more than two of which can be small banner ads.
Facebook will continue working on Instant Articles, but extending it to Android and, possibly, Windows Phone, may not be in the company's plans.
Regarding other mobile OSes, Facebook had "nothing further to announce at this time," Cassanos said.
Beware of Geeks Bearing Gifts
Some readers of a New York Times article about the publication's involvement in Instant Articles were less than pleased.
"This is a slippery slope and I'm extremely disappointed to see reputable news organizations give in to the strong-arm tactics of Facebook," commented Marc.
"Just wait until Facebook is selecting what articles it allows to be published," he continued. "Why should I pay for the New York Times if they are giving content exclusively to Facebook and I, as a subscriber, have no access to it?"
Facebook "is the company that always forces people to opt out of new features it adds on the sly," wrote Ricardo. Then it "backpedals when privacy advocates loudly complain."
The Wall Street Journal has discussed the Instant Articles program with Facebook but said it has not yet agreed to join.
Some Web publishers are concerned that Facebook's generous terms are a lure to entice them into a dependency that ultimately will give Facebook power over them.
"Granted, like any partnership, someone [in the Instant Articles program] wanting to bash Facebook will likely have a few extra hoops to jump through," said Rob Enderle, principal analyst at the Enderle Group.
If publishers are making money from the arrangement, "they likely won't go out of their way to bash Facebook, but they'll still cover issues surrounding the company," he told the E-Commerce Times.
Instant Articles will be "no worse for journalism than, say, MSNBC was, or GE's ownership of NBC," Enderle opined. "Journalists tend to be a fiercely independent lot."
If Instant Articles is successful, he said, Facebook will "eventually get additional advertising revenues, particularly from mobile users who have, so far, been much less lucrative than PC users per capita."

---