JLo, Verizon Partner on Wireless Stores Targeting Latinos
By Enid Burns
May 22, 2013 3:45 PM PT
Actress, singer, dancer and fashion designer Jennifer Lopez can now add wireless industry mogul to her resumé.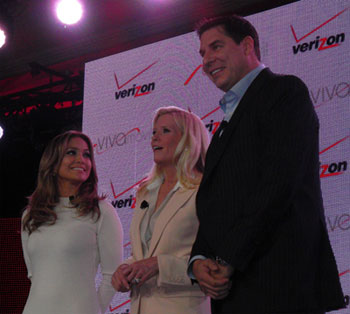 Jennifer Lopez, Verizon Wireless' Marni Walden and Brightstar's Marcelo Claure
JLo is the big name behind Viva Movil, a new mobile phone retailer that addresses the growing Latino market.
Lopez is the founder of Viva Movil, as well as a majority shareholder and its chief creative officer. To pull off an multichannel experience that includes retail stores, an online presence, social shopping and a mobile experience, Viva Movil partnered with Brightstar for supply chain and technology services, while Moorhead Communications will oversee retail operations and staffing.
Both Brightstar and Moorhead made investments in the company. Viva Movil will operate as a Verizon Wireless premium retailer, though Verizon does not hold any stake in the company.
The company will open its doors in a high-traffic New York City location June 15, with locations in Los Angeles and Miami to quickly follow. The store locations have been designed to invite customers to come in, share their experiences, and learn about the handsets and technologies offered by the provider.
Viva Movil will have a strong presence on other channels including online and social, and will communicate with its consumer base on its Facebook page, as well as on other platforms.
Reaching the Latino Audience
The company addresses the Latino audience, estimated to be 50.5 million strong and growing. Latinos are also aggressive in their adoption of mobile technologies: A recent report from Pew Research Center said 86 percent of Latinos own a cell phone and 49 percent own a smartphone.
"Latino Internet users are more likely than white Internet users to say they go online using a mobile device -- 76 percent versus 60 percent. Meanwhile, Latino and black Internet users are equally likely to access the Internet from a mobile device -- 76 percent and 73 percent, respectively," stated the Pew report.
The Latino market includes those who immigrated to the U.S. as well as first and second-generation Latinos born in the U.S.
"You have to understand the consumer, you have to understand that we're American and Latino," said Lopez. "We talked about that, and how there were different idiosyncrasies."
Viva Movil will cater to the market with staffing and an inviting store design.
"Our staff will be completely bilingual, will guide you through the entire shopping experience, help you active your phone, accessorize your phone, and all in your language," said Lopez.
Latinos are very active online and on mobile, and are social on those platforms. In that respect, Latinos overindex the general population, Lopez said. The store will encourage that activity by inviting consumers to share their purchases and will make the shopping experience social.
"We want you to bring in your friends and families, we want you to test-drive products before you buy them," said Lopez.
Partners in Mobile
Viva Movil will feature a line of accessories designed by Lopez. Initially, however, the stores will sell handsets and equipment directly from the Verizon line.
"We figured out that Verizon has a wide variety of handsets, so at this point in time we are not launching a new device," said Marcelo Claure, chairman and CEO of Brightstar. The company has had conversations with manufacturers, he added, and an exclusive handset has not been ruled out of future discussions.
Phones will be available through Viva Movil under the same Verizon Wireless service plans, according to Verizon.
"We have no special service plans," said Marni Walden, executive vice president and chief operating officer of Verizon Wireless. "We launched our Share Everything plan last year in June. So having simplicity in our service plan structure is important. We are not changing core service and pricing."
Opportunities to create a unique experience could come in the form of special apps, but none are planned at this time.