Apple Decides the Desktop Shall Be App-ified
MacNewsWorld
Apple announced Wednesday it will debut the Mac App Store, an online store through which users can purchase, download and install Mac OS X applications, within 90 days.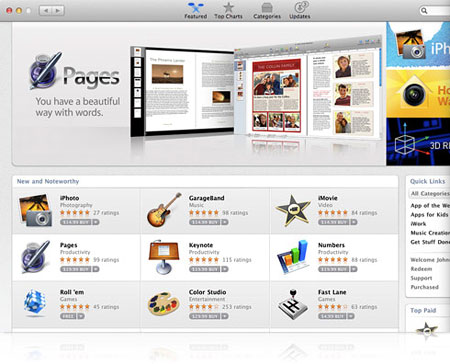 The Mac App Store
Looking ahead further, the vendor said it will incorporate the Mac App Store in Mac OS X Lion, the eighth major release of its operating system for computers, which is scheduled to ship next summer.
The Mac App Store is one of a slew of announcements, including new MacBook Airs, Apple made this week.
The development raises the possibility that the industry will follow Apple's lead and introduce app stores for PCs, much as app stores for multiple mobile platforms sprang up after Apple debuted its iTunes App Store for iPhones and iPods. Will this impact the software industry's distribution channels?
What to Expect for the Mac App Store
The Mac App Store will let Mac users buy apps using their iTunes accounts, then download and install apps in one step.
Apple will also deliver app updates directly through the Mac App Store.
Users running the current version of Mac OS X will get access to the Mac Apps Store within 90 days, Apple said.
Impact on Software Vendors
"The Mac App Store is a completely new model for software distribution," Carl Howe, director of anywhere consumer research at the Yankee Group, told MacNewsWorld. "I think that, in the future, we'll see the old PC model of software distribution being about as relevant to software as 8-track tape decks are to music."
This will happen within two to three years, Howe remarked.
"Given Apple's control of the platform, it's certainly possible that it could use the App Store to change the way we buy applications," Rob Enderle, principal analyst at the Enderle Group, told MacNewsWorld. "Two years is certainly possible."
Other software developers, such as Microsoft, may well follow suit, but it will "likely take more than two years" to implement an app store for PCs, Enderle said.
"We're already surfing the Web from apps now; we call them browsers," Enderle added. "If a proxy model takes off, which could be security driven, we could be using windows into secure proxy servers within a few years of the software industry offering apps through app stores," he explained.
"This is about a distribution channel strategy," Al Hilwa, a program director at IDC, told MacNewsWorld. "Jobs is saying everyone's going to love buying from Apple because they know Apple."
The traditional market for software is a third-party market, Hilwa pointed out. "You go to a store -- Best Buy or what have you, buy a software package, then install it on your computer. So the publisher has to have a retail channel, a retail strategy and a distribution strategy. Now Jobs is saying you will have a distribution channel called the App Store, and this will make it easy to discover apps. You don't have to run around to figure out where to buy an app."
Driving Higher App Use
An app store distribution channel for software may lead to greater use of apps, Hilwa speculated.
"Most of us use the main 10 apps on our PCs, and that's it," Hilwa explained. "But on smartphones we use far more apps because they're easy to buy and cost so much less. Jobs is making it easier to discover and buy apps," he opined.
"We'll be using more varieties of software, simply because it will be easier to buy and own," the Yankee Group's Howe said. "And the idea that I won't have to constantly do my own updates means I'll be more likely to use that software on an ongoing basis."
Going the app store route for software distribution might lead to smaller, less bloated apps, Hilwa suggested.
"Mobile apps are very granular; they only do one thing," Hilwa said. "Perhaps the app store concept will lead to smaller apps that are more granular and look more like smartphone apps. And if people can easily buy apps and compare prices, perhaps apps will get cheaper."
Browsers Will Still Rule
The emergence of smartphone app stores has changed the way many users browse the Web on their mobile devices. Rather than bringing up a browser to go anywhere on the Web, users often call up a dedicated app created specifically to browse the content on one site -- a Facebook app, for example, or a dedicated CNN app. Could we see desktop browsers becoming leaner and faster -- or waning in importance -- as app stores become the norm? Will people begin surfing the Web by just clicking on an app for a site or several sites grouped around a subject?
That's not likely, according to Enderle.
"You might have a dedicated browser for just one site," Enderle said. "But the massive size of the Web makes such an approach unreasonable for anything but dedicated use for some things like a platform-specific app store."
There's debate on whether apps should be native or browser-based, IDC's Hilwa said. He favors native apps.
"Apps on native platforms will always be richer, more responsive, have offline help and support, and better graphics," Hilwa explained. "Technologies such as Flash, Silverlight and HTML5 are closing the gap between native and browser-based apps, but I don't think the gap will be completely closed," he added.
"The distinction is one of utility," the Yankee Group's Howe said. "If you have content you're working with eight hours or more a day, such as email, word processing or presentation applications, you might want an app. But if you have content you look at maybe once a week or less, that's something you might want to browse. It's the difference between having a home to live in versus staying in a hotel; an application is the home in which you spend most of your time and the browser takes you to a hotel room."