RhoLogic Mobile for SugarCRM Is No Tease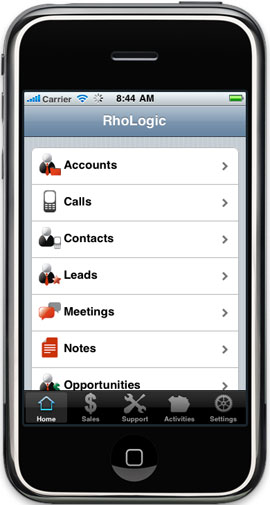 RhoLogic Mobile for SugarCRM
RhoLogic, a division of Logic Appeal, an integrator of SugarCRM software, last month released RhoLogic Mobile for SugarCRM. The app is now generally available for download at the iTunes App Store and Android Market. The company is working on a BlackBerry version, as well as versions for Windows Phone 7 and Symbian.
The app itself is fairly straightforward, mirroring much of SugarCRM's functionality: There are fields for accounts, contacts, leads, opportunities, meetings, calls, tasks, orders, profiles and products. Users can enter information on their device and it syncs with the corporate database.
However, getting to this point -- one that the average mobile user simply takes for granted -- entails several processes, according to Rhomobile CEO Adam Blum.
Rhomobile provided the open source framework, Rhodes, on which the mobile app was built, Blum told CRM Buyer.
Rhomobile took an active interest in the app's development, he said, in part because RhoLogic was using some of the framework's most advanced features, and in part because Rhomobile uses SugarCRM as its CRM application and was looking forward to a mobile version.
SugarCRM was happy about the project as well, Blum remarked. Users previously had to rely primarily on a Web page optimized for mobile use.
Customizations Carry Over
RhoLogic wanted to roll out an app that didn't require any customization or additional spending on implementation on the part of the end user, which is why it turned to the Rhodes framework, Blum said.
"Most CRM applications require customization at some level. They have added new fields or changed the structure in some way. So when a company is rolling out a mobile application, similar customization and systems integration is usually necessary," Blum explained.
RhoLogic's goal was to have an app that that would automatically turn on with whatever customizations the user had made, he noted, and Rhodes' metadata framework allowed RhoLogc to accomplish that.
"It hooks into the back end, exposes the metadata, and then maps that to a common description as to how to display an object or describe a field or prompt," said Blum.
What this means is that when a layout or language field is changed in the main application, these changes are immediately made to the mobile application as well.
Not Teaser-Ware
Of course, users have no clue about the complex middleware that sits between devices and the corporate back ends.
To turn on the mobile app, users must first download it from the Android Market or iTunes, then get a subscription from RhoLogic, along with a user ID and password. A simple set-up follows, after which the user's SugarCRM application -- complete with all modifications -- is displayed on the device.
It is rare to find compatibility with customized schemas or structures, Blum said. "Most mobile CRM apps are like teaser-ware. You can start it up and play with it, but you still have to have it customized if you want to get value-add out of it or use in it the field."
Bulk Sync
The application is also notable because it does bulk or large scale syncing, Blum said.
"SugarCRM has customers with hundred-megabyte and greater product databases, such as medical and dental suppliers," he noted. "That is an important feature for them."