Thinner PS3 Comes With Slimmed-Down Price Tag
By Renay San Miguel
Aug 18, 2009 12:37 PM PT
The prospect of a cheaper PlayStation 3 has been churning its way through the gaming world's rumor mill all summer long, and now it's reality. The big question: Is it too little, too late for Sony?
The blogosphere buzz ratcheted into high gear Tuesday with reports of promotional materials appearing on Web sites for Kmart and Sears touting a "new low price and a new exciting PlayStation 3." The PlayStation Blog then live-blogged the news late Tuesday morning Pacific Time from Cologne, Germany, site of the Gamescom 2009 conference: The new "PS3 Slim," as it was referred to by Sony Computer Entertainment of America executive Kaz Harai, is a thinner PlayStation 3 that contains all the same features as the original model but will sell for US$299. It will be available the first week of September.
There are now 23.7 million PS3s in homes worldwide, Sony Europe executive Andrew House told the Cologne audience. However, there's no denying that Nintendo's Wii and Microsoft's Xbox 360 have stolen the sales championship title and overall mojo that used to belong to House's company, thanks to the former dominance of its PlayStation 2.
Can Blu-ray Help Now?
As in comedy, timing is everything in the video game world, and it's no laughing matter for Sony that it ended up with the most expensive video game console available as the worldwide economic slump hit consumers' wallets.
"PS3 sales have been unhealthy for a long time, especially for a recession," Interpret analyst Michael Cai told the E-Commerce Times. "That screwed up [Sony's] original plan. Although they won the Blu-ray vs. HD-DVD war, it didn't seem to matter all that much."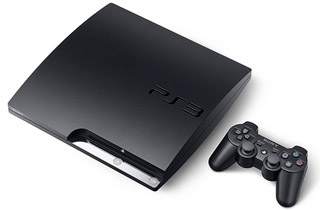 Sony PS3 Slim (top)
When it first hit the shelves years ago, the PS3's price tag was competitive with those on standalone Blu-ray disc players, making the gaming console a plausible option for consumers who were really only interested in high-def video playback. However, standalone Blu-ray player prices started dropping, making the PS3 option less attractive.
"In this economy, it's difficult for people to justify putting down $400 to $500 for consoles, and then $60 to $70 for the games for it," Cai said.

Sony PS3 Slim (front)
It speaks volumes that Sony's former gaming king, the PlayStation 2, still outsells the PS3.
"Sony had to do something to drive sales," Cai said. "It's not just consumers, but also game developers and publishers and the analyst community [that] have been fairly vocal that Sony has to do something. With its current installed base, it's challenging to maintain games for PS3. If this global recession hadn't happened, they would have had more wiggle room, but now they're pushed into a corner. They have to respond. They're off by a lot for their forecasts this year."

Sony PS3 Slim (back)
The Rest of the Console Market
Nintendo's ultra-popular Wii remains at $249 in its third year on the market, and Microsoft has already cut the price on its high-end Xbox 360 Elite to $399. However, rumors are circulating around Microsoft possibly matching Sony with more price slashing, along with adding hard-drive space for all the downloadable games now available with the latest Xbox Live update.
"From Microsoft's perspective, they have a wider range of options that cover different types of gaming demographics than Sony has," Cai said. With the entry-level Xbox 360 Arcade selling for $199, "they definitely have cheaper solutions for the more casual gaming audience."
Meanwhile, Nintendo, which has never reduced the price of its Wii, has more elbow room with its pricing strategy.
"I'm pretty sure they're making very healthy margins now on the Wii hardware. They were making money from the very beginning, but the past two years, with millions of sales around the world, the margin on hardware is snowballing," noted Cai.
Despite recent reports showing the recession finally catching up to the video game industry in the past two months, Cai believes the console market is still at a healthy stage.
"These consoles are still doing fairly well except for the PS3. So, once the Wii starts reducing price, and then the 360 and PS3 [go] to less than $200 and maybe even $150, they still have a lot of room to grow, I think," he said. "Obviously, with the economy, they're all taking a hit -- but the economy is going to come back, and consumers need entertainment, and gaming has become a fairly important way to have interactive entertainment."