Citrix Online Brings SMBs Into the Virtual Meeting Room
By Jack M. Germain
Jun 15, 2009 5:30 AM PT
The economy is still broken, and businesses are scampering to save money and entice back lost customers. Don't remind Brett Caine, though. As president of Citrix Online, he's too busy growing the company's customer base into a US$100 million business that a few years ago didn't exist.
As a young startup in 1997, Expertcity was a provider of Web-based desktop access and help-desk services. It was started by a college professor and two of his PhD students. Expertcity offered online products, including the GoToMyPC software service for browser-based access to desktop PCs and the GoToAssist software service, an online help-desk and call-center assistance system.
Toward the end of 2003, Citrix Systems acquired Expertcity for US$225 million in cash and stock, forming Citrix Online. The two PhD students who helped found Expertcity came on board. Today, Bernd Oliver Christiansen serves as vice president and chief technology officer, and Malte Muenke serves as vice president and chief architect of Citrix Online.
"The company survived the dot-com fallout of the 1990s. A good deal of market displacement was happening. Internet companies were going out of buisiness. Then 9/11 happened shortly after GoToMyPC launched in 2001," Caine told the E-Commerce Times.
He joined Citrix Online soon afterwards to lead the global corporate sales division. GoToMeeting launched in 2004.
"The company was very smart in being conscious of cash and not getting ahead of our headlights. We didn't invest in things we didn't think we could afford. We were very lean in areas that were unproven. Once they were proven, then we could put the petal to the metal and move forward. We did a lot of testing and tried not to get too big too fast," said Caine.
A quick look at the company's recent sales figures: Revenue grew 16 percent during the first quarter to $72 million, and it was up 22 percent from 2007 to 2008. Last year, Citrix Online brought in a fifth of the revenue for parent company Citrix.
Factoring Success
Citrix Online is capitalizing on a product pipeline that features upgrades, extensions and new releases. Its primary market is the SMB, but it also makes forays into the enterprise space and stabs at luring corporate customers away from the market leaders in online collaborative services, Cisco and Microsoft.
"Citrix Online targets the Web conferencing market with its GoToMeeting and GoToWebinar offerings. Our research indicates that the Web conferencing industry grew by 17 percent in 2008, topping $1.1 billion in sales. We expect the market to reach $2.7 billion in five years growing at a CAGR of 19.8 percent," Roopam Jain, principal analyst at Frost & Sullivan, told the E-Commerce Times.
Frost & Sullivan cited the firm with an award recently, recognizing strong marketing efforts in the SMB space, she said.
"Through the end of 2008 they outpaced competition in terms of growth rate, revenue growth and customer acquisition. I think that can all be attributed to a couple of things. First of all, their conferencing platform itself has some strong points when you look at the needs of the SMB market which they are primarily addressing," she explained.
Inside the Box
Expertcity's founders meant to address what they saw as an absence of any easy-to-use screen-sharing technology. The three founders, themselves computer experts, traveled frequently and needed to stay in touch on projects and share materials over the Internet.
"They got frustrated with the difficulty in doing this online while on the road. Nothing was available for what they were trying to do," Caine said. "The original idea was to make it easy to collaborate with university labs around the globe. Sharing information across computer screens wasn't readily available."
That concept, according to Caine, also fueled the online computer repair model. With online repair, the customer sees what the technician sees and does. That idea evolved into the notion of collaborating with other computers remotely without having somebody on the other end as a technician. All of this happens through a Web browser.
Outside the Box
Related ideas began to take hold. The company's brain trust began to look at the broader market of how else screen-sharing technology could be applied to business situations.
"In the 2003 time frame, my meetings services were available but were very difficult to use and prohibitively expensive. Often, people had a difficult time getting into an online meeting and getting everybody to see the same things on the screen at the same time. It was a difficult, time-consuming and expensive process," explained Caine.
The solution seemed obvious -- bring the same features it used in the GoToMyPC and GoToAssist experience to the online access experience.
"That's when we built the online meetings for the rest of us," he said.
Making It Work
The initial business model was developed early on at Expertcity. That model formed a community of experts around the world that could solve computer problems for individuals and companies.
"In order to do that, it was very difficult to create Software as a Service (SaaS), which didn't exist yet. The technology didn't really exist. It was very early on," Caine noted.
The company had to first build all the infrastructure and then build the technology, the platform and, finally, the screen-sharing. Engineers had to operate data centers and find a way to provide secure communications infrastructures to allow people over the Internet to transmit information, much of which was strictly confidential.
"It involved their computer data being shared with somebody outside the firewall. We had to create the encryption technology. We had to build all this stuff into a system that was highly available, multi-tenant. Much of this didn't exist previously in an Internet-centric way," said Caine.
Expanding the Market
The meeting services are priced at a $50 per month subscription for unlimited use. One of the newest offerings, GoToWebinar, costs a $100-per-month flat fee for unlimited use.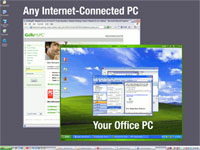 [Click Image to Enlarge]
The pricing scheme is designed to appeal to companies that wanted a version of a technology usually only larger organizations could afford.
"They offer a pretty full-featured product," said Jain. "It lacks the bells and whistles you would see in something from the high-end vendors. This is the main reason they have seen such huge success in the SMB market. I think they have a very strong footing. They have actually become a pretty significant market-share holder since they entered the SMB space. They have become the No. 3 company in the Web conferencing market behind Cisco, Webex and Microsoft Live Meeting."
Next Horizons
Citrix Online continues to expand its product lines to include a number of other services.
For example, having bought a small company on the East coast, Citrix Online has created a product division to offer an audio conference service, according to Caine.
HiDef conferencing provides virtual audio rooms for 10 to 500 people at a fixed rate with no limit to the number of conferences. Room participants can use VoIP or regular telephone lines to join, according to Caine.
What's Left
"Video in the future may become part of the collaboration service. Already we see a lot of video services in the market. Much of it is not really very good. It doesn't really enhance the collaboration experience today and in a lot of cases it gets in the way," noted Caine.
Drawing on one of the founding tenants of the both Expertcity and Citrix Online, the company is not rushing prematurely into video conferencing. First, Caine wants to see how video evolves.
One of the newest product developments takes on a show-and-tell flavor. Citrix Online recently introduced a new product in beta called "GoView," available for free now.
An all-in-one screen-sharing and audio recording service, GoView lets users record screen and audio content, save it and share it. Anything you can do on your computer you can couple with an audio overlay and share, as Caine described the concept.