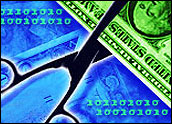 The U.S. government is determined to find new and better ways of using information technology. As part of that effort, different approaches to IT contracting are in the offing for vendors providing hardware, software, consulting and other services, including social media and mobile device solutions.
One of the emerging IT management concepts is the utilization of capabilities that can be deployed across all units within a federal department or agency, and even among two or more departments. The IT operational approach is spilling over into IT procurement vehicles as well, as the federal government seeks to leverage its enormous buying power to reduce IT expenses.
Rather than have individual units within an agency try to acquire IT products and services on their own, cooperative and coordinated acquisition with other units allows agencies to eliminate separate contracting initiatives and reduce duplication in IT procurement.
A prime example of this broad-based approach is a new federal contract for as much as US$20 billion worth of IT offerings, which was awarded to 54 vendors on May 30. The selected vendors will participate in a government-wide acquisition contract, or GWAC, covering a period of 10 years.
Under the GWAC concept, the selected vendors are eligible for bidding on specific task orders for IT services covered by the contract. The task orders, in turn, may be issued by all federal agencies for IT services covered by the master GWAC contract.
Fits IT Reform Plan
While the GWAC was initiated several months before the Obama administration launched its 25-point plan to reform federal IT management in December 2010, the contract vehicle meets many of the procurement objectives in the reform plan.
"Much of what can be facilitated by the GWAC falls within the goals of the IT reform program, in such areas as utilizing cloud technology or shared services," Robert Coen, deputy program director at the National Institutes of Health Information Technology Acquisition and Assessment Center (NITAAC), told the E-Commerce Times.
NITAAC issued the contract award and is one of a few federal procurement centers that are authorized to issue GWAC vehicles for IT products and services throughout the U.S. government. Although NITAAC is associated with the National Institutes of Health (NIH), tasks to be performed under the contract do not have to be health-related.
The GWAC does cover IT applications associated with biotechnology, electronic health records, and implementation of the Affordable Care Act, but the vehicle can be used for other purposes by all federal agencies.
"The statement of work for the contract includes health-related objectives, but it also covers tasks such as outsourcing, software development, and support for chief information officers — and they don't have to be health-related at all," Coen said.
"In some ways, this vehicle is broader and a bit more sophisticated in approach to other types of federal contracts that may apply to multiple agencies but are restricted to one type of IT task, such as email," he noted.
'Unprecedented Breadth of IT'
The GWAC "is open to all federal civilian and Defense Department (DoD) agencies who require information technology services and solutions, providing them with a mechanism to quickly and efficiently satisfy new and emerging IT requirements," NITAAC says in a contract statement. Agencies will find that the contract offers "an unprecedented breadth of IT" in support of federal enterprise architecture, federal health architecture and the DoD enterprise architecture.
"This GWAC can be used to satisfy the most urgent needs facing federal agencies today, including but not limited to data center consolidation, Cloud computing, health IT, mobility and cyber security," NITAAC says.
Other agencies authorized by the Office of Management and Budget (OMB) to issue broad-based GWAC contracts for information technology include the General Services Administration, the National Aeronautics and Space Administration (NASA), and the Department of Homeland Security (DHS).
The GWAC vehicle allows agencies across the government to take advantage of all the work NITAAC put in to develop qualified contractors, contract terms and procurement conditions. Agencies outside of NITAAC are thus spared the time and expense of creating their own IT procurement vehicles.
Recent federal emphasis on "commodity IT" procurement underscores the enterprise approach within departments and even across departments and agencies. Government-wide procurement vehicles are not new — but they are an appropriate vehicle for meeting the innovative goals associated with federal IT reform.
Importantly, the GWAC provides agencies across government with a consistent cost reference. Prices for vendor IT offerings were pre-competed at the master GWAC level to assure that agencies receive competitive pricing. Additional discounts can be negotiated at the task order level, according to NITAAC.
The contract vehicle — CIO-SP3, for Chief Information Officer – Solutions and Partners 3 — is a successor to an expiring GWAC vehicle. The $20 billion covered by the contract is an aggregate sum limiting the GWAC to issue task orders up to that amount. The contract does not authorize any new funding beyond that permitted by agency budgets. NITAAC will receive a 1 percent facilitation fee from agencies using the vehicle.
Participating Vendors Applaud Vehicle
Vendors selected to participate in the GWAC not only are looking forward to gaining potential business, but also are impressed with aspects of the contract that facilitate contracting.
"The customized terms and conditions and flexible contract types enable government to follow the principles laid out by the 25-point plan. CIO-SP3 will have the speed and flexibility outlined in the plan, enabling agencies to stay on top of emerging and changing technology," Zhenia Klevitsky, vice president at Creative Computing Solutions, told the E-Commerce Times. CCSi is one of the selected vendors.
"CIO-SP3 is fast, flexible, and streamlines the acquisition process for an impressive breadth of enterprise IT services for our health, civilian and defense clients," said Cheryl Campbell, senior vice president at CGI Federal, another of the selected vendors. "Through its holistic thinking about technology's role across the enterprise, NITAAC sets a great example for how contracts can be structured to maintain high quality at competitive prices," she said.
"The CIO-SP3 contract enables agencies to procure services that directly impact their mission in a more streamlined and efficient way," said Jeremy Wensinger, chief operating officer of GTSI, which also qualified for the GWAC.
Some major federal contractors are among the 54 selected vendors, including Northrup Grumman, Science Applications International Corp. (SAIC), and Accenture.
Companies such as Amazon, Google and Microsoft were not listed as prime contractors on the GWAC. However, their presence will be felt as designated partners for some of the selected firms.
"It's typical that those type companies participate as partners to provide specific elements within an IT program rather than seek an overall prime contract role," Coen said.